It's Chanuka, which means it's time to eat a few (just a few) potato latkes. I've been using the same recipe for Potato Latkes for years but this year I came across a new recipe (via Facebook) from Tori Avey  that I thought I would try.
The secret to my success was actually READING the entire blog post! Generally I just skim a recipe and this time I actually read it twice.
These tips really made a difference:
•I used Peanut Oil. Believe it or not , it was the first time I've bought Peanut oil!!
• I made sure the oil was actually the right temperature (I placed a popcorn kernel in the oil and it popped – so I knew the oil was ready).
• I grated the potatoes by hand. (not sure this made a difference but….LOL). Usually I take out my beloved Cuisinart for this job but since I moved I can't find the blade. Don't ask. ARGHH
• I used a cheesecloth (purchased from the dollar store) to really wring out the excess water.
Recipe for Classic Potato Latkes (from Tori Avey)
INGREDIENTS
2 1/2 lbs.

Yukon Gold potatoes

1 large

white or brown onion, shredded  (I left this out – not sure why)

3/4 cup

matzo meal or bread crumbs (I used bread crumbs)

2

eggs, beaten

1 tbsp

potato starch ( I used baking powder)

1 1/4 tsp

salt, or more to taste

1/2 tsp

pepper

Peanut or grapeseed oil for frying (about 1 1/2 cups) (I used peanut oil)
DIRECTIONS:
1. Grate the potatoes and immerse into cold water to prevent discolouring.  Drain and put the grated potatoes on a cheesecloth and then wring it out like there's no tomorrow.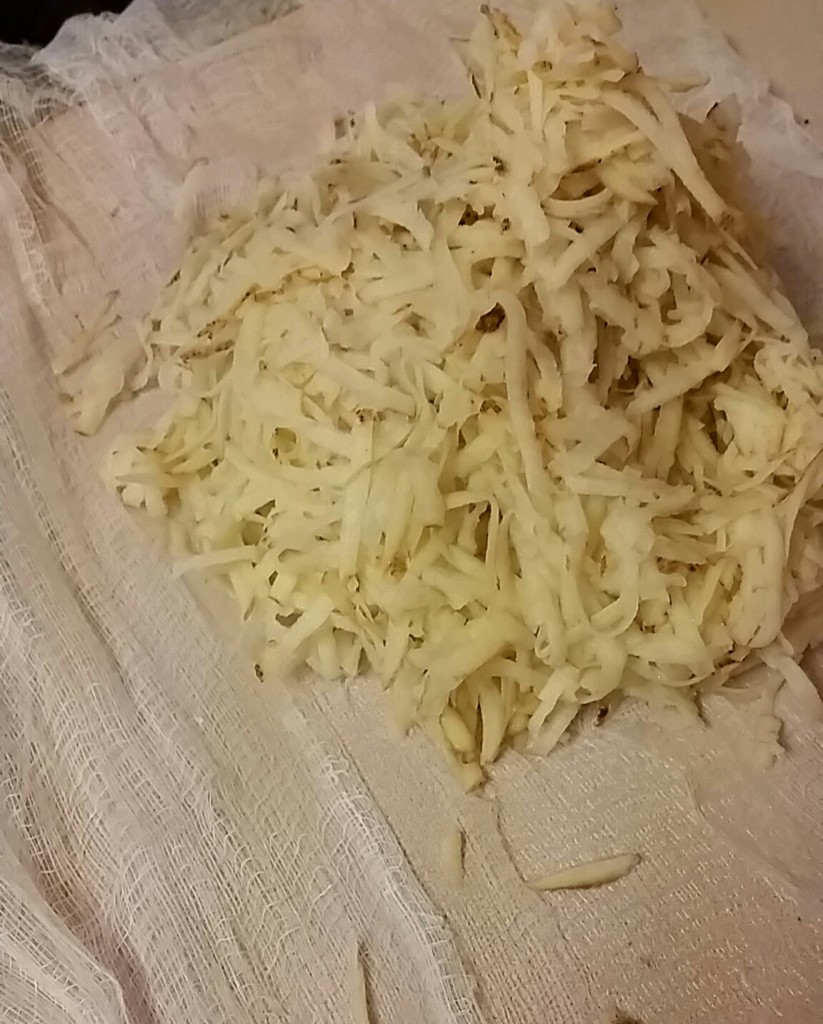 2. Grate the onions (again, I skipped this part – not sure why)
3. Add the squeezed out grated potatoes, onions and the rest of the ingredients into a bowl and mix the ingredients till everything is well blended.
4. Heat the oil in a large pot. I was really generous this time  with the oil and it made a difference. After a few minutes, I then placed a popcorn kernel in the oil. It popped which meant it was the right temperature. You could also use a piece of bread and when it turns golden brown ..then you know the oil is ready.
5. Form latkes into patties and then gently drop into the hot oil with a slotted spoon. After 2-3 minutes – flip over. Take them out of the oil and place them on a paper towel to absorb the oil.
5. Serve….with applesauce, sour cream or both!!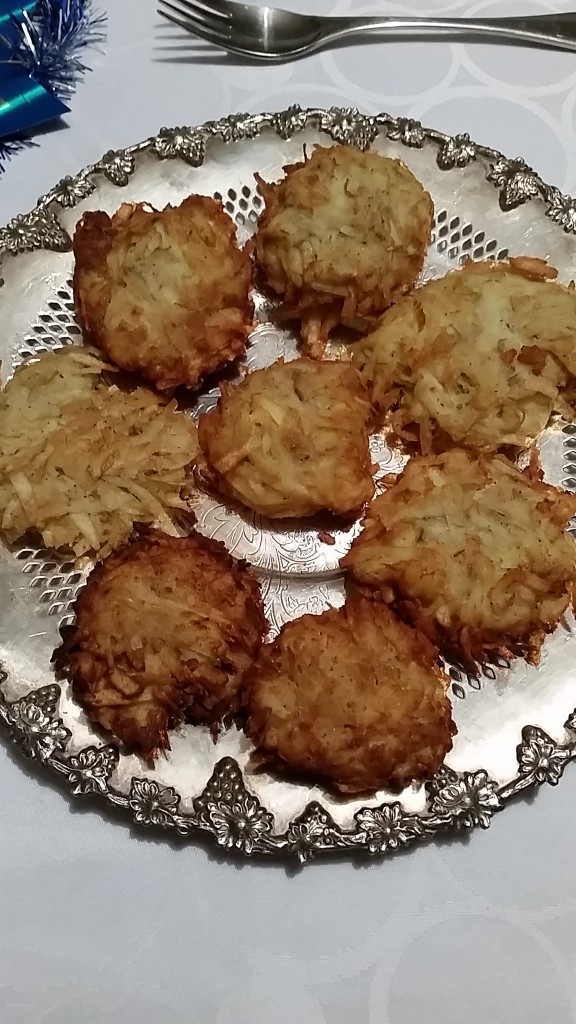 Happy Chanuka…to all who celebrate! ps these latkes are traditionally served at Chanuka but I have no idea why I don't make them all year round. They are DELICIOUS.