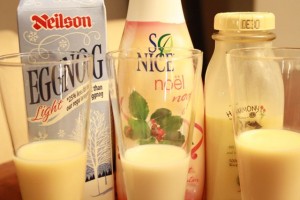 T'is the sesaon to drink eggnog. I know it's Christmas when I see eggnog in the stores and will always buy a litre (or two). I also know it's winter when Starbucks introduces their Gingerbread Latte, Eggnog Latte, and Peppermint Latte. Seems like winter is a good time to drink flavorful drinks. Last nite, I had a chili hot chocolate at Grindhouse in Kensington Market…but will blog about hot chocolate in another blog post.
I only seem to drink my eggnog pure  i.e. without any alcohol in it, but always  in small quantities. Eggnog is not good for the waistline even if I'm MOMWHORUNS….and these days I'm running on the treadmill 4x a week.
Back to the eggnog. I decided to do an eggnog taste test from 3 different brands:
The nutrional information is as follows:
Neilson Light Eggnog:  Per 1/2 cup – 110 calories,  2% Fat (4% saturated fat), Protein 3 g
Harmony Organic Eggnog – not listed (interesting)
So Nice Noel Nog:  Per 1 cup – 120 calories, total fat 5%, Protein 6 g
Here are the results:
Neilson Light Eggnog: watery (very), dark yellow color, sugary
So Nice Noel Nog: strong nutmeg flavor, beige, you know it's soya milk but I don't mind actually
Harmony Organic Eggnog: best color – lovely and yellow, tastes like eggnog – no overwhelming nutmeg flavor,
I was also lucky enough to experience a HOME MADE EGGNOG this past weekend. (with rum). It was totally different than the commercial eggnog that I'm use to, so it was a real treat. (thanks @JasonRees).
Basically I like eggnog, eggnog ice cream, eggnog lattes….except eggnog does not like me. Sad but true. I'm delighted that the stores only carry it for 6 weeks a  year.
Cute story before I finish the blog entry: Two years ago, I saw a tweet declaring that there was no more Harmony Organic Eggnog to be found in the GTA.  I read the tweet while visiting Garden Foods in Bolton and happen to notice that they still had a few bottles left – so I picked them up. I then tweeted "just bought a few bottles. Happy to share". I met her at the bottom of her condo later that week. Twitter is awesome…and Harmony Eggnog is awesome too.
Who else is an eggnog fan?