I went to the Green Living Show last year and knew that I would be returning. No question, the environment has becoming more and more important in our every day lives. Infact, I just got rid of my gas guzzling mini van and can't wait to drive my far more fuel efficient Nissan Versa. But let's get back to the Green Living Show – it's a show you don't want to miss. They have it all.
a green beauty bar
an electric vehicle show
live bird demonstrations
an eco music movie swap
a farmers market
the sweaty equity  yoga pavilion
the organic council of Ontario pavillion
Toronto Fair Trade Town
and lots more!!
Naturally I spent a lot of time at the FARM FRESH FARE. (perhaps too much time) It didn't take me too long to find a few salads to take pictures of. I mean how gorgeous are these salads?
Chef Christopher Palk of L'Eat Catering created this beauty of a salad:
Ontario Chopped Salad with Pickled Ramp Buttermilk Ranch, House Made Red Wine Vinegar and Mustard Vinaigrette or Green Apple, Herb and Cider Vinegar Dressing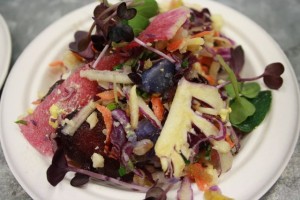 The chef was happy to show me the list of ingredients that went into this "All Ontario Chopped Salad". I was blown away.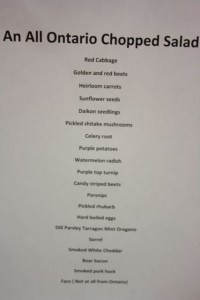 This salad created by Chef John from Table 17 also caught my attention. He created a pea shoot and peanut salad with an Ontario Peanut Dressing.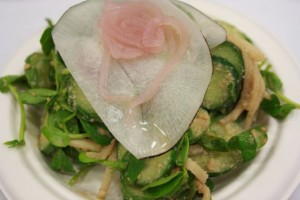 Here's another stunning salad that was created by the Garbardine Restaurant: Smoked and cured Ontario Pickerel with red fife bagels, baby lettuce and creme fraiche .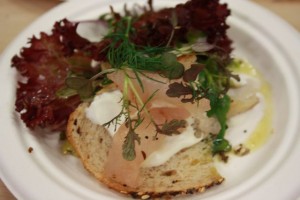 I also made a point of visiting my favorite exhibitor….Island Spirits. I met Trudy last year, and went up to stay at her fantastic, unique property in May 2011. I actually told her that next year, I would volunteer in her booth to give a "live testimonial". (by the way, Trudy…I am serious about that offer)
I strongly encourage  you to head down to the Direct Energy Centre this weekend and check out this great consumer show.
Hours: Saturday April 14 from 10- 9 and Sunday April 15 from 10-5.
Hint: If you bring e-waste you can receive FREE admission, compliments of Samsung.