It's Spring(well at least sometimes it feels like Spring) and I'm in the mood to cook with bright green vegetables!! This recipe is based on a standard pesto recipe but instead of JUST using basil, the recipe includes a cup of green peas. I was intrigued so I tried it. You will notice that it's  slightly sweeter and has a different texture. I think it's a keeper. (not all recipes are keepers by the way).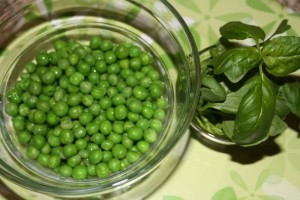 GREEN PEA PESTO (from AllRecipes.com)
1 cup frozen peas (I used Jolly Green Giant)
3 tablespoons grated Parmesan cheese
2 cloves garlic, minced
1 teaspoon lemon juice
1/2 cup chopped fresh basil
ground black pepper to taste
2 tablespoons extra-virgin olive oil
Directions
Bring a small saucepan of water to a boil; add the peas and cook until softened. Drain.
Blend the peas, Parmesan cheese, garlic, lemon juice, basil, and pepper in a blender; while the it blends, stream the olive oil into the mixture.

Final Product

Disclosure: I am part of the Life Made Delicious Blogger program and I receive special perks as part of my affiliation with this group. The opinions on this blog are my own.