There are occasions where I enjoy complicated recipes but there's occasions when I enjoy recipes that are REALLY REALLY easy as well. Everyone has those "moments" in the kitchen – when they are tired from standing, tired from chopping and just want to make something that is EASY…. as in FAST and  WITH TWO INGREDIENTS. The fact that this recipe involves chocolate means that it is sure to be demolished. I mean, seriously, do you know anyone who doesn't like chocolate?
Recipe #1: CHOCOLATE CHEWS:
INGREDIENTS: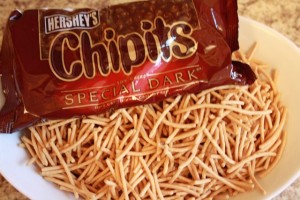 1 package of Hershey's chocolate chipits
1 package of crispy chinese noodles
METHOD
1. Melt chocolate
2. Mix in noodles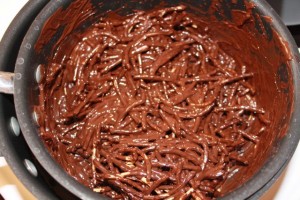 3. Take a tablespoon of the mixture and drop onto a lined baking sheet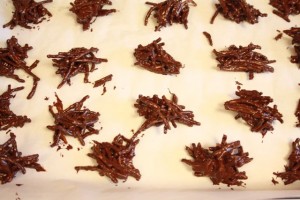 4. Refrigerate for 15-20 minutes
RECIPE #2: CHOCOLATE/CANDYCANE BARK
INGREDIENTS: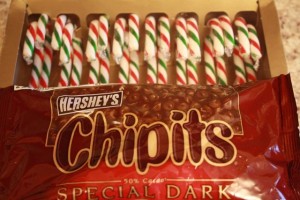 1 package of Hershey's Chipits
1 package of candy canes
METHOD
1. Melt the chipits
2. Unwrap each candy cane (this is the NOT SO FUN part), place in a zip loc bag and crush with a rolling pin (this is the fun part)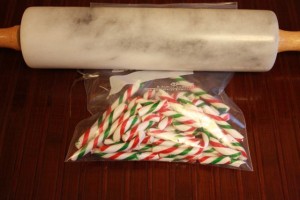 3. Mix the crushed candy cane with the melted chocolate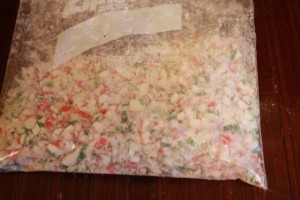 4. Spread  on to a lined baking sheet, to the desired thickness.
5. Refrigerate 15-20 minutes
Bonus: Both these desserts, freeze beautifully. So don't hesitate to store them in a ziploc container for those 'emergency" moments when you need something last minute.