My mom lives in Ottawa and I live in Toronto, therefore to meet in Kingston for  a weekend, is ideal. We did it last year and said we would do it again so we did. Exactly one year later!!
We stayed at the lovely Four Points Sheraton both last year and this year. We love the location, the service and the spacious updated rooms.
As for the meals. We repeated the same meals too.!!
We had dinner at Lukes Gastronomy again and have no regrets about eating there two years in a row. We love his creativity, his commitment to using local ingredients, the presentation, and his use of flavors. Luke is a 20 year old self taught chef and he is certainly a chef to be watching!!
I had a main course that was out of this world called "Fields of Jamnagar": curry, mango, lassi, coconut, tomato, rasam, lentil, rice and lime pickle.
For dessert, we split the "testosterone": vanilla tobbaco, scotch, coffee, and honey dates. I received a tweet from @mattkantor saying I should try the "estrogen" but we had the testosterone last year and I'm simply in love with this dessert. It's nothing short of brilliant.
On our trip to Sandbanks we make sure to stop off at Schroeder's Bakery for some home made donuts. I read about it on Chowhound and put this on my list of  "where to eat". LOL.  We also made sure to stop into Buddhas Dog where we were treated to some whoopie pies and where we bumped into @laurenendorphin and her hubby. Small world.
On the beach, we needed dinner, so we picked up some sandwiches from Panchancho Bakery on our way out of Kingston and we werent disappointed. (we did the same thing last year….do you see a pattern here?). Not to mention, we had a pain au chocolat for the drive to Sandbanks, that was perfect. (i.e I'm so glad I dont live in Kingston..LOL)
After a long day at the beach, we were in despearate need of  a beer. The Sizzle Restaurant and Bar, which was convenientely located at the bottom of the Four Points Sheraton…came to our rescue. We both enjoyed a Shock Top Belgian White Beer. Infact I enjoyed it so much, I had two!!
On our last day, we enjoyed a sit down breakfast at Panchancho. We both ordered the same thing (like mother like daughter). A fennel/apple salad that was accompanied by a horseradish egg salad with smoked salmon on top of a slice of St. Johns bread. We demolished it.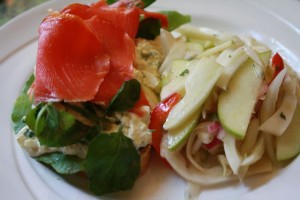 My mom and I, plan to repeat the same weekend next year. Same hotel. Same restaurants. There is no need to mix things up!!
Info:
Lukes Gastronomy:  26 Princess, Kingston
Pan Chancho Bakery: 44 Princess St, Kingston
Buddhas Dog: 172 Main St, Picton
Schroeder's Bakery: corner of hwy 62 and country road 1 (just outside of Picton)
Four Points Sheraton: 285 King St. East, Kingston