It wasnt an easy decision, but I drove to Washington last week instead of flying.  I dont regret that decision for a minute. There is something to be said about "road trips".  For example I got to discover a beach on the way there and a small city on the way back.
On the way down to Washington, I stopped off at Presqule Ilse in Erie PA. I love beaches and this one is magnificent. I was so tempted to return there on the way back it wasn't funny. Thats how nice it was. The beach is quiet, there's lifeguards, the sand is gorgeous, and the water is clear and calm. What more could you ask for?
When I arrived in Washington, it was too hot to walk around (in my humble opinion). I waited till I went out for dinner and drinks to kinda explore and take photos.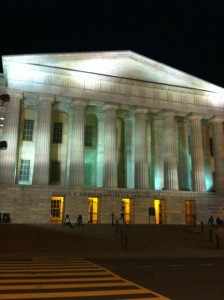 Where did I eat dinner? Ben's Chili Bowl because it's cheap and cheerful and FAMOUS. As in line ups. But that's ok – I was on vacation!! I had a veggie chili with chopped onions and cheese and it was just perfect.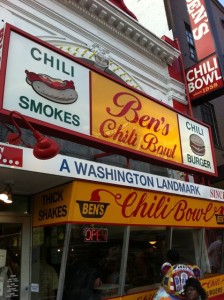 Where did I drink? First drink…PS7….plymouth gin, gran classico, dolin vermouth and salted ice. I was happy.
Second drink…The Passenger…fernet, sweet vermouth, cherry liqueur, and a whole egg. Once again – I was happy.
On my way out of the city I passed Georgetown Cupcake and HAD to stop, despite a line up of 10 people standing outside in the heat at 3 p.m!! (I'm sure we were all tourists). I chose a honey banana cupcake and it was worth standing in line for.
I decided to cut the journey in half by stopping in Altoona. Dont ask me why!! It was kinda out of my way. (clearly I didnt look at a map). Altoona had a Target – so I was happy. On the way OUT – I heard on the radio that the Food Network was there to film a segment for "The Best thing I Ever Ate" at Anthonys Pizza and Grill. Apparently they serve a famous Rum Cake.  I was so pissed that I heard this ON MY WAY OUT of the city. GRRR.
I have already marked in my calendar that the fancy food show is June 17-19, 2012. Guess who will be repeating the exact itinerary?