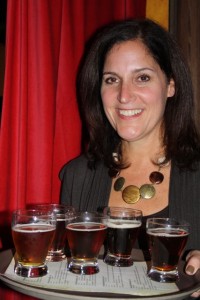 Once again, I went to an event as a result of a tweet I saw on twitter between @redhunttravel and @InnisGunnCanada.  The event was an Innis & Gunn Beer Dinner at Fynns Temple Bar. (489 King West). What's not to like?  I was SO going to this event.
Here was the menu that was presented by Chef Patrick Narain:
One: Mulligatawny Soup and a Mango Chutney Crostini
Two: Dark Chocolate Chicken Wings served with a Roasted Corn, Jicama and Mango Salad
Three: Tender Lamb Stew with Root Vegetables, wrapped in an Arugula Boxty
Four: Cranberry Bread Pudding topped with El Dorado Rum Custard
The above dishes were paired with the following beers (note: I did not eat at this event – I was strictly interested in the beer)
-Innis & Gunn Original
-Innis & Gunn Rum Cask
-Innis & Gunn Spiced Rum – a new beer for me to taste
-Innis & Gunn Winter Beer 2011 – another new beer for me to taste
-Innis & Gunn Highland Cask – yet another new beer for me to taste. (which is why I wanted to attend this event).
Each beer was described ….color, nose, palate, finish and food suggestion. Naturally I enjoyed all of them (in moderation of course, I'm not even sure I consumed 8 oz in total last nite). There is something so unique about this beer – I must admit, I really do like it.
As a result of last nites great event, I ran to the LCBO to buy 3 gift packs. I can't think of a better gift for my beer loving friends.
Cheers!!
P.S A special thank you to the team at Innis & Gunn for accommodating me as a last minute guest.