As much as I love searching the internet for recipes, I still like clipping out recipes from the Toronto Star too. A few weeks ago, I clipped out Jennifer Bains' Crawford Street Salad and posted it on my fridge. Here's proof:
This recipe appealed to me for a few reasons:
-it incorporated avocados. Don't know about you but I'm a huge fan of using avocados in my salads
-the recipe called for lime AND lemon juice  (#interesting)
-the technique was slightly different than your average salad so I knew it would be flavourful
Finally, last week I had the chance to try this amazing salad!
Here's the recipe:
Crawford Street Salad   From Jennifer Bains' The Toronto Star Cookbook, published by Random House. (Note: Created by Adrienne Amato, Toronto resident on Crawford St)
INGREDIENTS: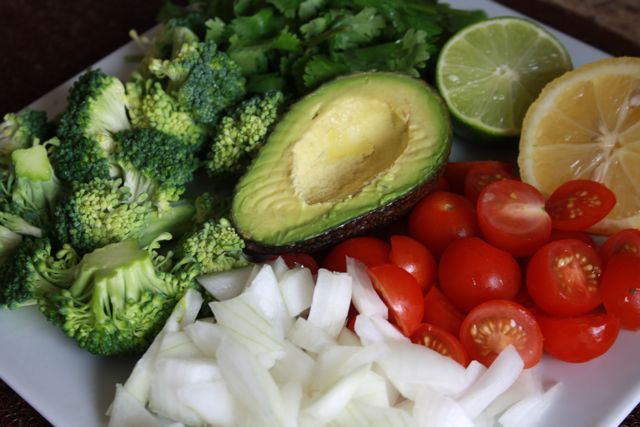 1/4 cup fresh lemon juice
3 tablespoons extra virgin olive oil
1 tablespoon lime juice
1 teaspoon kosher salt
Freshly ground black pepper – to taste
1 cup chopped white onion
1/2 cup cilantro
1 cup small broccoli florets
2 plum roma tomatoes, halved and thickly sliced (I used cherry tomatoes)
1 avocado, peeled, pitted and chopped
DIRECTIONS
1. In a medium bowl, whisk together the lemon juice, olive oil, lime juice and salt. Season with pepper to taste and whisk again
2. Add the onion, cilantro to the lemon juice mixture and stir well. Make sure the onions are covered by the liquid. Let stand for 15 minutes or refrigerate, covered for several hours
3. Put the lettuce in a large salad bowl and top with the broccoli, tomatoes and avocados.
4. Just before serving, pour the onion mixture over the lettuce mixture adn toss well.
FINAL PRODUCT
For more information about Mexican Avocados: Please visit www.missavocado.ca  
or follow @MissAvacado on twitter
For more information about Jennifer Bains' The Toronto Star Cookbook: Please visit www.randomhouse.com