As you know, I'm a sales rep and on the road throughout the GTA. This means, that I'm always on the lookout for something cheap and cheerful for lunch. Here's a list of my top 10 cheap and cheerful restaurants in Toronto.
1. Mother Dumplings; I can' stop ordering B8 which is boiled dumplings filled with bok choi, mushrooms and tofu. 12 pieces for $7.49. This makes me very very happy!!
Address: 421 Spadina Avenue
2. The Fish Sandwich Store; You pick the type of fish you want (that is lying on a bed of ice infront of you) and he grills it and then puts it on to a perfect roll.
Address: 654 College St.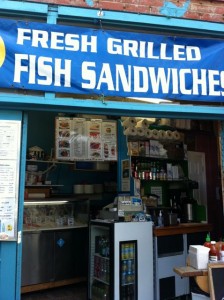 3. Cheese Emporium; They make a simple simple grilled cheese sandwich on a simple sub style roll  – for $5. Cash and Carry. Note: hugely popular at lunch with high school students. Therefore, I  try not to go there exactly at noon.
Address: 1-245 Eglinton Avenue East.
4. Poutini's: I love this place. That is all. (ps I was the 2nd customer when they first opened 2 years ago and so so proud of this fact)
Address: 1112 Queen St. West
5. New York Subway – this gem of a place closed for a year and I was SO SAD. I have been ordering the potato burrito for years. Note: they don't serve subways here!! Plus – the burritos arent filled with beans and rice like a typical burrito.
Address: 520 Queen St. West
6. Dr. Laffa. Ive organized two tweet ups at this restaurant and I blogged about this restaurant as well- no need for me to explain my love for this place. Nobody is making Sabih like this restaurant.
Address: 401 Magnetic Drive
7. Mustachio; Love visiting this St. Lawrence Market stall to order my massive eggplant sandwich.
Address: 91 Front Street East, Lower Level
8. Cheesewerks: Perfectly grilled grilled cheese sandwiches in a stunning space that is LICENCED. Can you say beer and grilled cheese sandwiches? what a combo. I organized a tweet up right after opening nite – cause I wanted to share my love for this place with others.
Address: 56 Bathurst Street
9. One Love Vegetarian: You probably pass this restaurant all the time on Bathurst but have never gone in. I hope you stop the car one day soon and check out this awesome veggie restaurant that makes some great tasting food ie SOUP. You have to try their famous soup which has been on the food network!! ps impressive website too.
10. Last but not least…My  OWN Kitchen. Its not a restaurant but I can make some pretty good cheap and cheerful meals!!
What do you do for lunch. Do you bring your own? do you go to the same restaurant all the time? do you eat the same sandwich all the time?
Would love to know.