Last year, I attended Recipe for Change for my first time. In case you want to read about my experience at this outstanding event, please click here.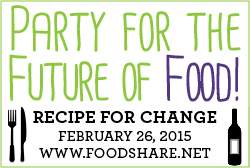 This year I would like to share a quick interview I had with the Executive Director of FoodShare, Debbie Field.
1. Can you tell me the history of this event and how it has evolved over the years? We wanted an event that could highlight the amazing work we do in schools bringing food literacy to students of all ages, and we wanted to raise the needed money for the staff who deliver the food literacy workshops. The event combines both goals.
2. How does this event differ from other events? It combines some of the best food in town, a great sense of elegance with a grounded reality of a multi-ages, more women chefs and more diverse chefs than any other event of its kind. It therefore has an optimistic sense to it that I think is rare in fundraising events. It is one night with great food that will hopefully inspire everyone to be active in the movement for food literacy.
3. Describe where the money goes to? Field to Table Schools work teaching kids how to cook and grow food and be food literate.
4. Any advice for first time attendees? The venue is fabulous, the food is incredible, and it really is FUN. You will meet great people as everyone is very friendly. FoodShare is often referred to as a big family and the event feels that way.
5. What's the best part of the event? The feeling that we are building a movement together for food literacy.
Recipe for Change not only supports an important cause, but it's also A PARTY you don't want to miss. With 30 chefs reflecting Toronto's diverse food scene, 2 craft brewers and 3 wineries, this will be the most delicious fun night of the year! The festivities take place on Thursday Feb 26th from 6 pm to 9 pm. at the St. Lawrence Market North Building. Grab a friend, buy your tickets and arrive promptly at 6 pm wearing your stretchy pants!