When I saw this restaurant, the first thing that came out of my mouth was "what happend to my favourite furniture store". You see, Destingo has replaced a furniture store that I use to check out. Not sure if I ever bought anything but I certainly did like this store.
When I told this to our charming waiter..he replied "well now we can become your favourite Italian restaurant". Cute reply.
Here's why I would recommend this restaurant:
Destingo offers their patrons SPACE. I love the fact that your table isn't two inches from the table next to you!! Plus there's an open kitchen for foodies like me who like to see the chefs in action (when I'm not eating…of course)
We tried a lot of food that was well executed, fresh and flavourful.
Top Left: Bruschetta, Top Right: Mussels in a wine sauce
Bottom Left: Grilled Calamari  Bottom Right: Toasted Farro Salad ( a good choice – not something you see on a lot of menus)
I must say that the Grilled Calamari was the biggest calamari I've ever eaten. It was an appetizer but seriously it was the size of a main dish!! #tastystuff.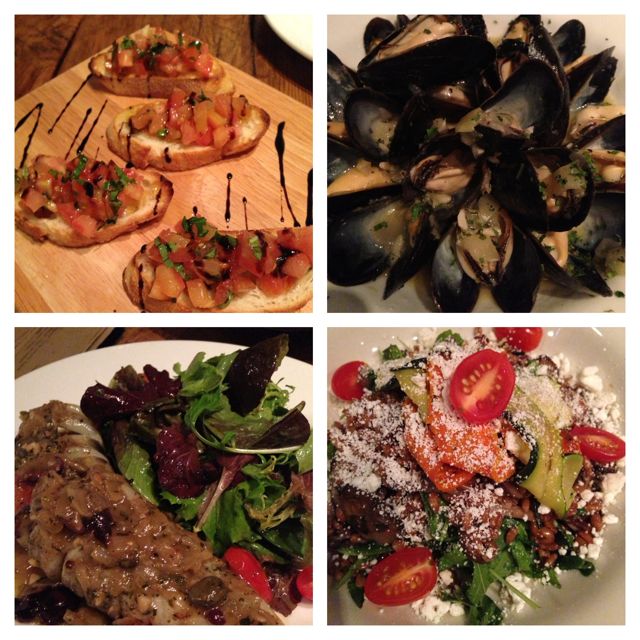 We continued eating (can you believe?).
On the left: Spaghetti Di Mare
Top Right:  Seafood Alla Destingo Bottom Right: Veal Scallopini.
All these dishes were winners. Not joking.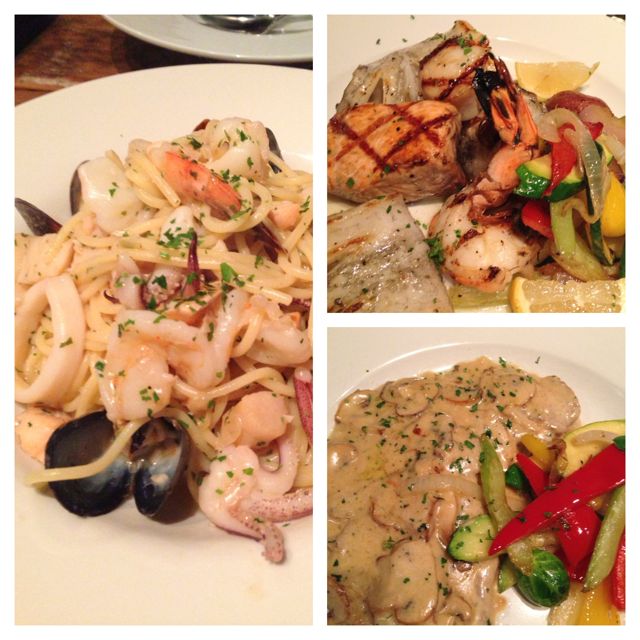 The food was so good that we even made room for dessert.
Top: Panna Cotta, Bottom: Tiramisu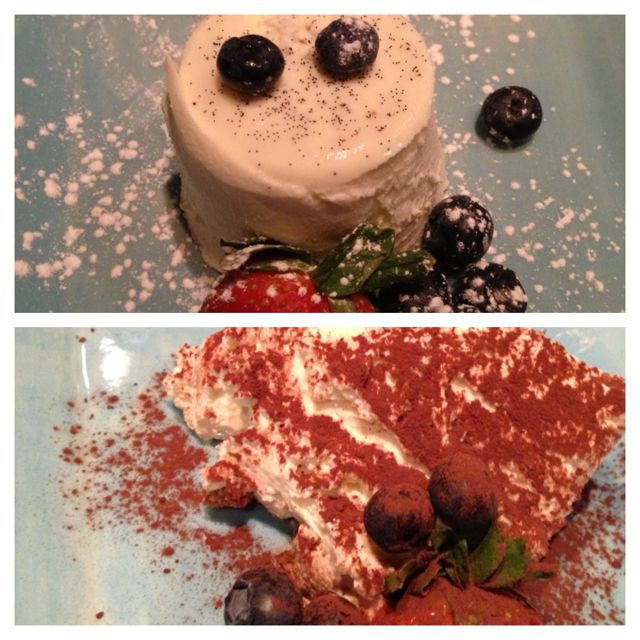 I can't say enough about the warm friendly service either. Our waiter was friendly, attentive and knew his stuff!!
One last thing: As I was writing this blog post, I noticed that Destingo is participating in Winterlicious. Click here to see the menu that they are offering.
Many thanks to Destingo for reaching out to me to review this restaurant. I can't wait to return.
For Further Information:
Destingo 741 Queen St. West, Toronto ON  Tel: 647.748.3113
Twitter: @DestingoToronto
Facebook: www.facebook.com/destingotoronto
Instagram: DestingoToronto