I went on a Ramen Crawl last winter and guess what? My fascination for Ramen continues.
The lastest ramen restaurant I checked out just opened on Dec 29th. It's called Isshin Ramen and is located at 421 College St.
The menu consists of:  8 different types of ramen (including TWO vegetarian options), 4 appetizers, 3 rice bowls and 3 desserts.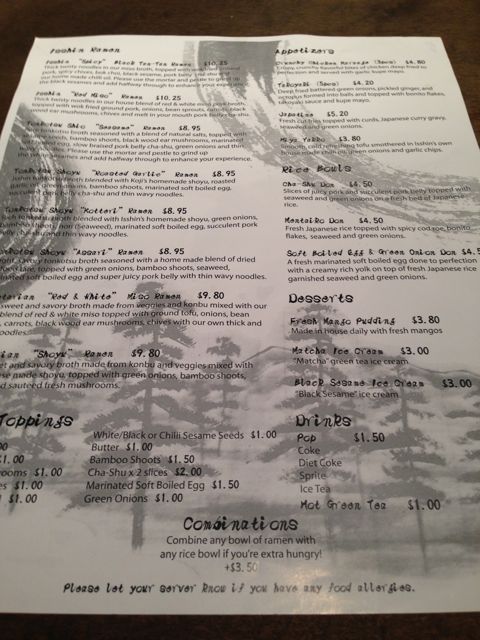 I asked the waitress to assist me in ordering and before I knew it I ordered the "Isshin "Spicy" Black Tan Tan Ramen"– Thick twisty noodles in a miso broth, topped with wok fried ground pork, spicy chives, bok choi, black sesame, pork belly, cha-shu and a home made chilli oil. Once again – I'm no expert but all 3 components really worked for me (the broth, the noodles and the toppings). It was DELICIOUS.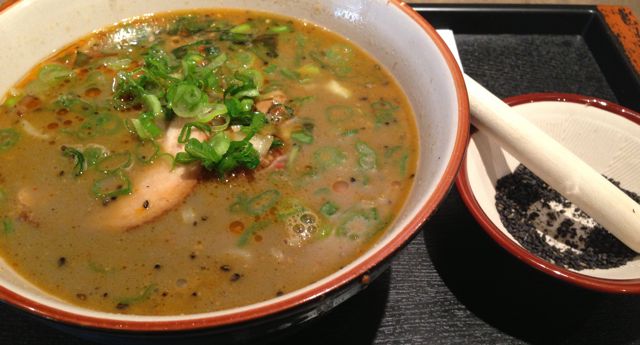 They encourage you to use the mortar and pestle to grind the black sesames and add it halfway through to enhance the experience. I was impressed with this added touch!!
I also had the chance to try "Crunchy Chicken Karaago" – crispy crunchy flavourful bits of chicken, deep fried to perfection and served with a garlic kupe mayo. Ate all three pieces even though I'm not such a huge fan of chicken and I was FULL.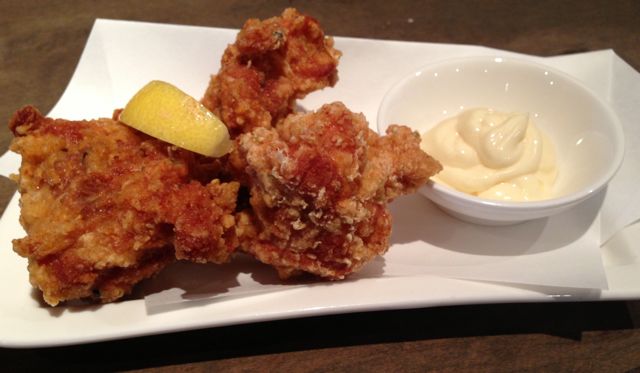 The meal ended off with a Fresh Mango Pudding which is made in house daily with fresh mangoes. It was light and refreshing not to mention a perfect way to end the meal.
I read a review on BlogTo today that highly recommends the Isshin "Red Miso" Ramen. I have no doubt that I will be returning. Cant' seem to get enough Ramen during the winter.
For More Information:
Isshin Ramen, 421 College St, Toronto, ON 416 367 4013
Twitter: @isshinramen
Facebook: www.facebook.com/ramenisshin