The other day I was heading to Mother's Dumplings to have lunch with @nearafar, and I passed  by  by Fancy Franks en route. While enjoying our lunch, I said to her "Hey, can we go check out Fancy Franks after lunch?".
She agreed like a nice foodie friend.
When we walked in, I noticed the "decor" right away. Out came the iPhone to snap a photo!!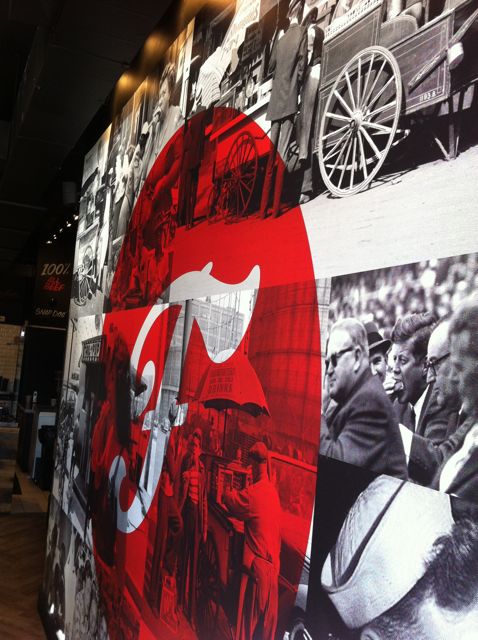 We stood at the counter and stared at the menu board which is a massive chalkboard on the wall. The kind server, noticed we were struggling and quickly passed us a written menu. It was like she was reading our mind as it was SO much easier to read when a menu is in your hand.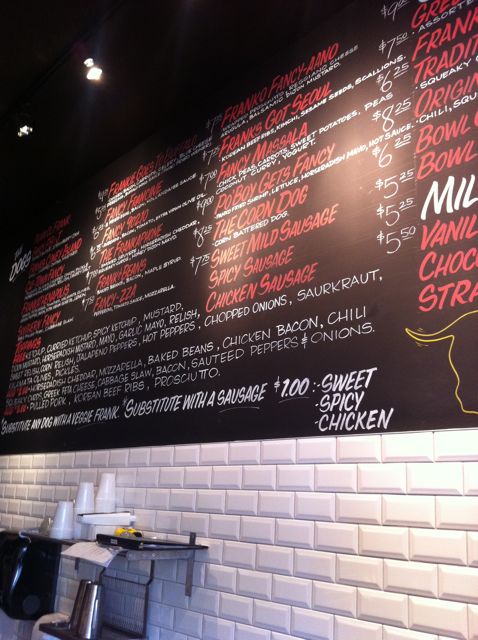 We were overwhelmed by the choices:
Fancy PB & J – Peanut butter, Strawberry Jam (what do you think?)
Frankathenapolis – Greek Feta Cheese, Tomatoes, Kalamata Olives, Green Pepper, Onion, Extra Virgin Oil , Lemon
Fancy Francine – 2 Fried Eggs, Bacon, Hollandaise Sauce.
Po'Boy Gets Fancy – Panko Fried Shrimp Lettuce, Horseradish, Mayo, Hot Saue.
Plus a dozen more options!!!
We asked a guy in line what he was ordering and we chatted with the counter staff as well – as we had no idea what to order.
We decided on: "Franks Got Seoul" which is described as Korean Beef Ribs, Kimchi, Sesame Seeds, Scallions. ($7.50)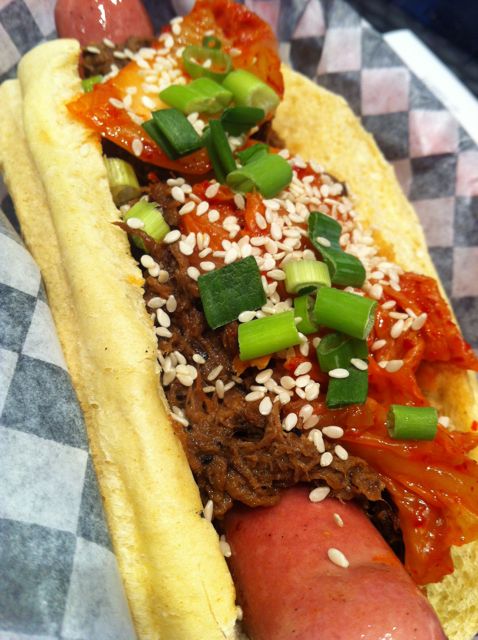 I was a happy camper. I love this concept and wish Fancy Franks all the best.
I'm already thinking of a tweet up where we order a half dozen hot dogs, cut up the hot dogs into small bites and have a "Fancy Frank" gourmet hot-dog-a-thon.
Who's in?
Oh yeah – one more thing- they have one of those donut machines on site and serve 4 different varieties of freshly made donuts. Looks like "momwhoruns" will have to run a bit faster so she can try these donuts next time.
P.S A veggie option is available
More info:
Fancy Franks Gourmet Hot Dogs 326 College Street, Toronto 416. 920 3647
Twitter: @FancyFranks
Facebook: www.facebook.com/FancyFranksGourmetHotdogs