As you know, I have been trying to avoid carbs…. which means I try to avoid sweet potatoes, squash, carrots and more. (I'm not listing them so I don't get depressed).
However there's a list of vegetables I am allowed to enjoy and that list includes: bok choy and asparagus. Here are two recipes that I made this week.
I am a bit frustrated with the first recipe as I can't find it. Don't ask..it's in a cookbook but I don't know which one. I have given up looking. Sorry.
But I'm going to share it with you anyway with my own made up recipe.
Again, this dish is a perfect side dish for salmon and can be served warm or cold.
Gingered Asparagus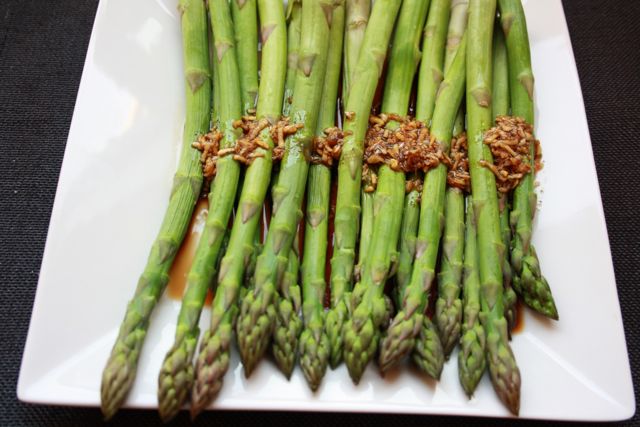 Ingredients
asparagus
Sauce:
1/2 tablespoon tamari
1 tablespoon sesame oil
1 minced garlic clove
1 minced chunk of ginger (please oh please buy organic.It's so much more flavorful)
a bit of honey (sorry I didn't measure)
DIRECTIONS:
1. steam asparagus
2. combine the ingredients to make the sauce.
3. drizzle the sauce of the middle of the asparagus dish.
Nutty Bok Choy Salad (from Gatherings: A Collection of Recipes from Netivot Hatorah Parents Association)
Dressing
3 tablespoon Balsamic vinegar
3 tablespoons soy sauce
2 tablespoons honey
2 teaspoons peanut butter
Topping
1/2 cup dry roasted peanuts
1 pk ramen noodles, crushed
Salad
5 cups bok choy, sliced
2 green onions, sliced
1 red pepper, thinly sliced
1/2 cup cherry tomatoes
Directions:
In a small bowl, whisk together vinegar, soy sauce, honey and peanut butter until well combined. Set aside.
In a small saucepan, saute peanuts and noodles until golden. Remove from heat
Put the salad ingredients in a shallow bowl. Right before serving, sprinkle the noodles and nuts over the salad.
Drizzle with dressing. Serve.
Happy Healthy Cooking