I discovered Pukka via Twitter (does that surprise you?) and then found out that they  recently opened up a little over a week ago on St. Clair Ave. West.  I was eager to blog about Pukka seeing as I haven't reviewed an Indian restaurant ever!!
Let's start off with the space:
Not too dark. Not too bright. Plus I love the colour combos. It's a pretty cool space for a restaurant in "North Toronto". (in my humble opinion)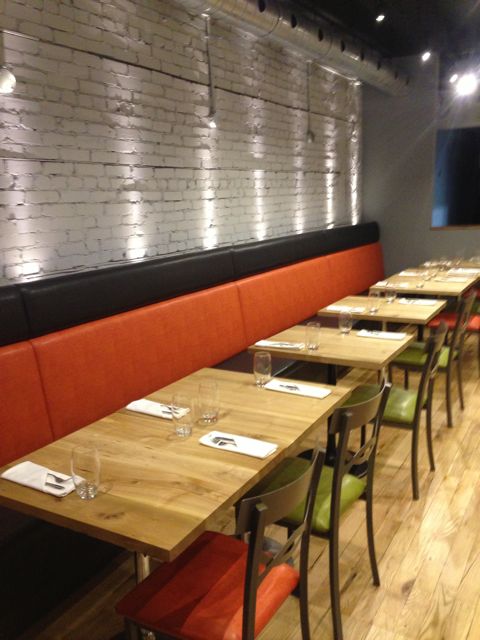 Now let's talk about the food. Pukka has managed to make Indian food – INTERESTING. It's not heavy, or greasy or boring at ALL.
Here's four dishes that really were outstanding. They were interesting, fresh, extremely flavourful and light.
Top Left: Vegetable String Chaat – puffed rice, sprouts, chutneys and sweet yogurt
Top Right: Baby Kale Salad – dates, lotus chiops and spiced cashew dressing. See what I mean?
Bottom Right: Wilted Winter Greens – pickling spices.
Bottom Left: Tandoor Roasted Paneer – sweet peppers and pineapple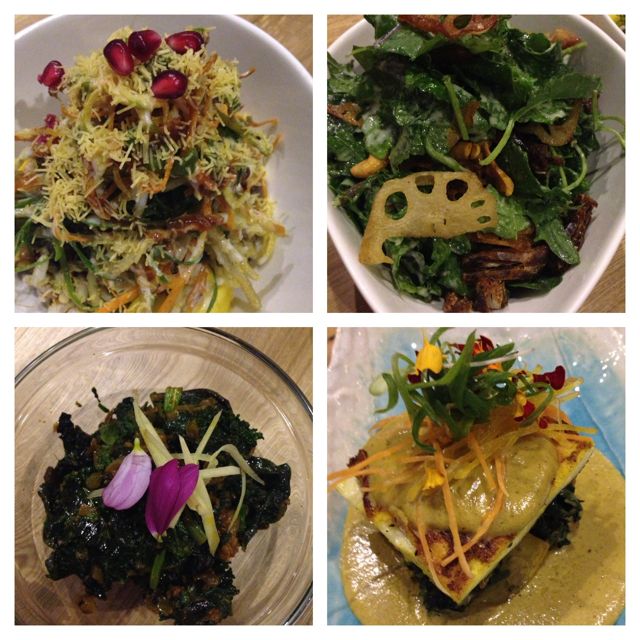 The meal continued with a few other winners:
Top Right: Chicken 65 – South Indian Fried Chicken (this is a MUST to order – and I'm not even a huge fan of chicken!!)
Bottom Right: Butter Chicken – tomato butter sauce.
On the Right: Vegetable Pakoras with Tomato Chutney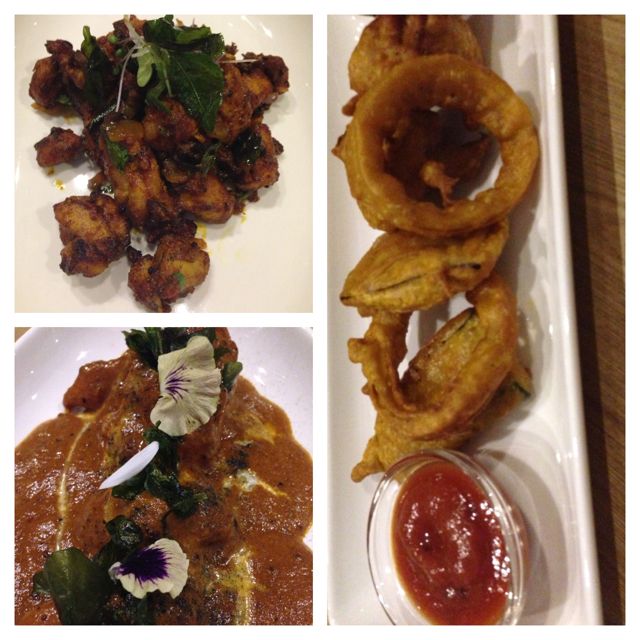 Believe it or not,…we managed to try dessert despite the fact that we were full.
Left: Eton Mess – rosewater meringue (my favorite), mango, pomegranate and sweet lassi cream
Right: Chai Pot Creme- candied pistachios, orange blossom creme anglaise, spiced shortbread (I loved the shortbread…hope they sell it separately one day)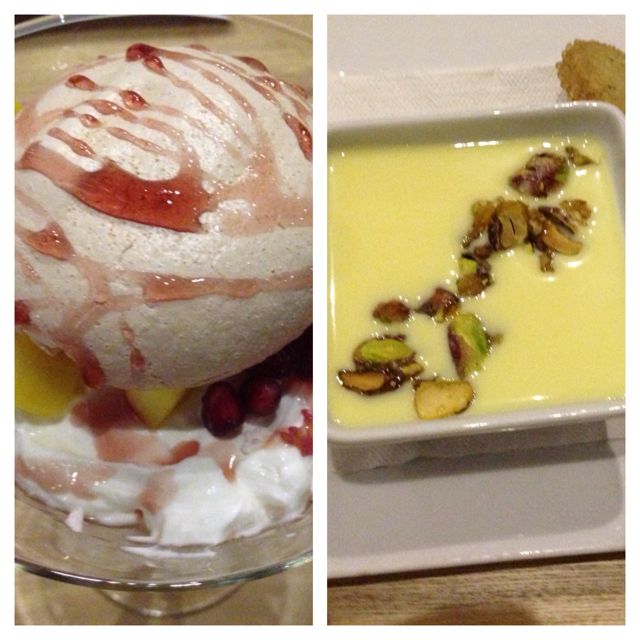 Someone knows what they are doing in the kitchen and every dish was executed perfectly. I was super impressed with the flavours, textures, and presentation of each dish.
I have no doubt that the neighborhood is going to embrace Pukka. (which is pronounced PUCK – A).
For more information:
Pukka: 778 St. Clair Ave. West (West of Bathurst). 416 342 1906. They open everyday at 5 pm.
Twitter: @pukkatoronto
Disclosure: Pukka is currently a client but I assure you that all opinions expressed in this blog post are my own.