Do you do the same things ALL the time? i.e go to movies, go for dinner, go to the theatre. Well, I have a suggestion!
Head out to see Les Coquettes.  I promise you that this will not be a boring evening and it's definitely something different. Not off -the -charts different but certainly different.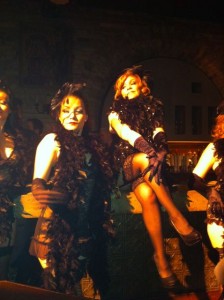 Here's a bit more info about Les Coquettes. They are a talented group of cabaret performers with a modern twist. It was the perfect evening that combined great entertainment with great food.
We started off the nite with cocktails while listening to live music being played by the talented Tyler Yarema . Then dinner arrived and then the show started. Please note that you can either go for dinner and see the show, or just go to the show. I love that there's two options.
If you go for dinner, I can assure you that you will have an amazing dinner. Chef Woods from CWCatering, certainly knows what he is doing in the kitchen as my salad, main course and dessert were fantastic.  In fact, everyone at my table was thrilled with their meal.
As for the show: Totally entertaining in a very tasteful way. The MC was brilliant – she was funny and cheeky and really got the audience warmed up. The different acts that were performed by Les Coquettes were fun, entertaining and very professional. There were lots of smiling audience members – that's for sure.
A few hours zipped by and we all walked out reviewing the fantastic evening – perfect food and a perfect show! Not to mention, that it was SOMETHING DIFFERENT and not just your typical nite out for dinner and a movie.
I highly recommend going to see Les Coquettes. Upcoming shows will be taking place April 4th, April 15th and April 22nd.
For Further info: Click on their website : Les Coquettes or call 1 877 821 7803.