Fact: I serve fish for dinner every week.
Fact: I have a rotation of about 4 different fish recipes, which in my opinion isn't enough.
Fact: I have a new recipe that will now be added to my fish "recipe collection". (insert – applause).
This recipe provided me with a COLOURFUL and TASTY dish that involved a few interesting steps. For example – the recipe asks  you to marinate the fish in buttermilk, which is not something I've seen before in a fish recipe. But trust me, this step is worth it
Baked Tilapia and Vegetable Casserole (adapted from Natasha's Kitchen)
Ingredients:
Tilapia Ingredients:
2 lbs (about 6-10 count) Tilapia fillets, thawed
Olive Oil to saute
1 Tbsp ketchup (I used Chili Sauce for an added kick)
1 Tbsp mayo
Marinade Ingredients:
2 large eggs
1 cup buttermilk
2 Tbsp soy sauce
1/2 tsp Salt and 1/8 tsp Pepper
Vegetable Ingredients:
2 medium bell peppers (red, orange, or yellow)
2 medium/large carrots, julienned or grated
1 medium onion
DIRECTIONS:
1. Whisk together the marinade ingredients. Place the tilapia in a large ziplock bag along with the marinade mixture and marinate in the fridge at least 1 1/2 hours. (simple enough, non?)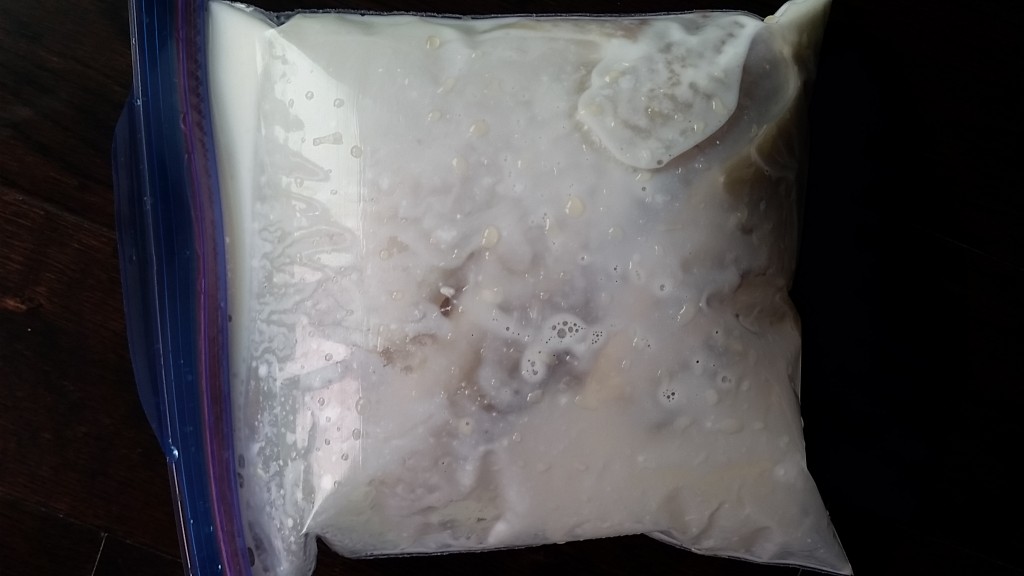 2. Slice onions into thin half circles, slice bell pepper into thin strips and julienne or grate carrots. (I forgot the carrots. Oops). In a large skillet over medium/high, heat 2-3 Tbsp oil and saute onions for 3 minutes or until softened. Add sliced bell peppers and carrots and saute another 4-5 min or until softened. Remove from pan and set veggies aside.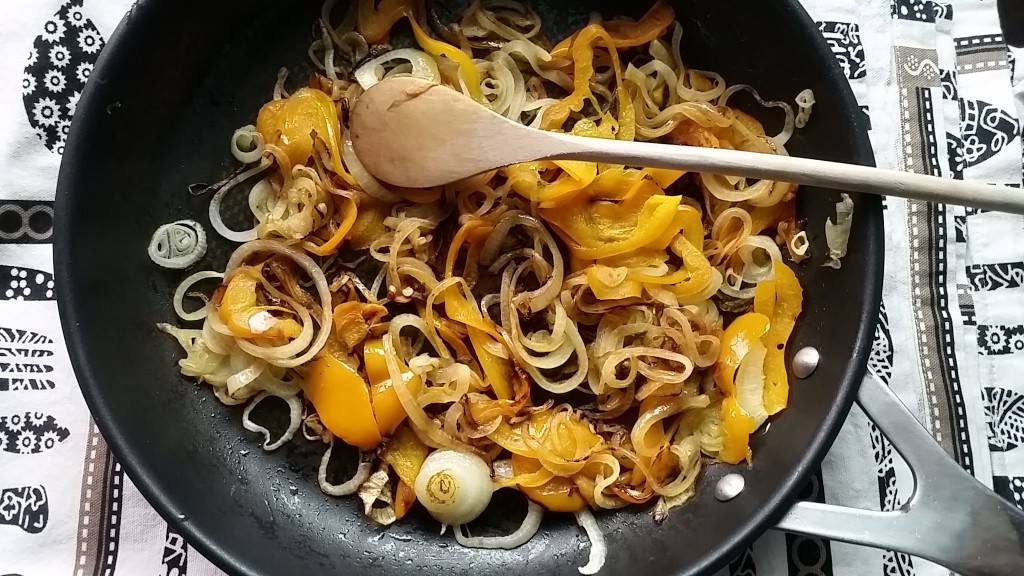 3. Whisk together the ingredients for the sauce.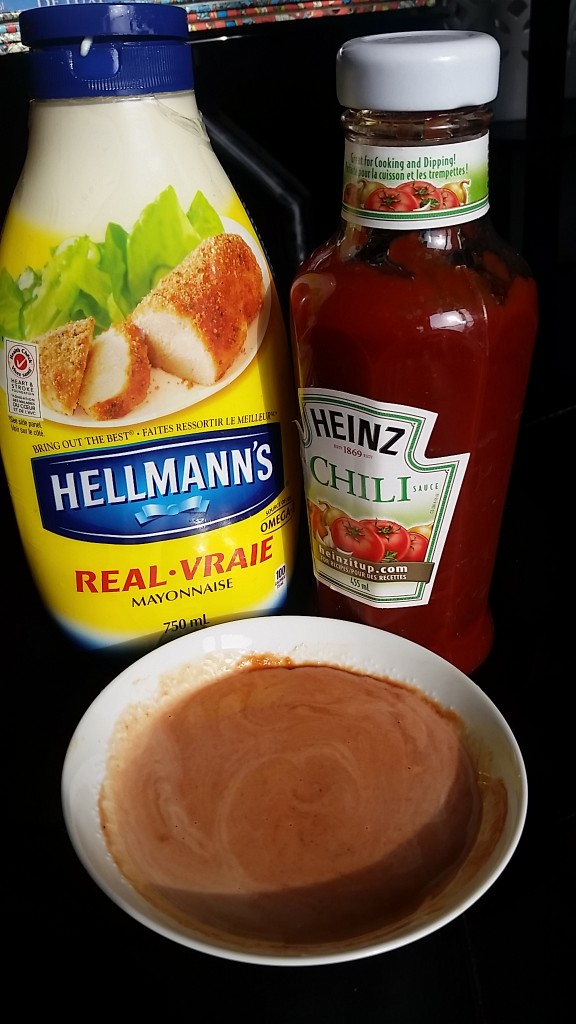 3. Once  the fish is done marinating, drain and discard the marinade. In the same empty skillet over medium/high, add 2-3 Tbsp oil and saute fish lightly on the skillet just until golden on the outside (about 2 min per side). Be careful not to over cook the fish in fact it's probably best that the fish isn't entirely cooked.
4.  Layer the casserole dish with 1/2 of the vegetables on the bottom. Place fish over the vegetables. Brush the mixture of the ketchup/mayo on top of fish. Then add another layer of vegetables on top. Sprinkle the top with salt and pepper to taste then cover tightly with foil or lid and bake at 375˚F for 15 min.
FINAL PRODUCT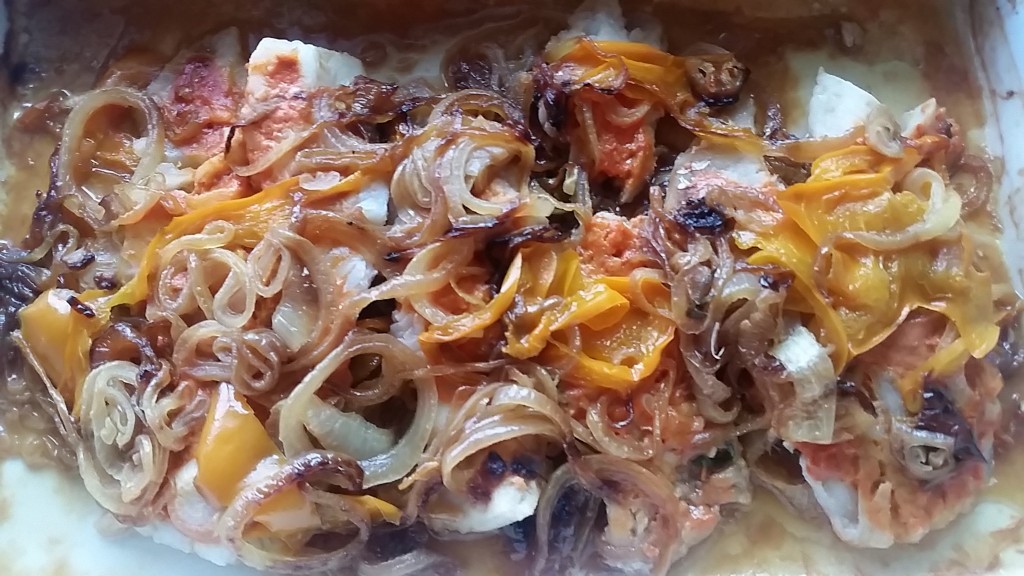 Just so you know, I only share recipes that I would make again!
Oh ya – served a few vegetables dishes along with this fish casserole. Specifically, a tomato soup, kale salad, tabouleh salad and a sweet potato dish. There were lots of satisfied tummies.
Happy Cooking!