For years and years, I did not go NEAR a recipe that involved phyllo dough. I was frozen with fear. I don't know why but I wouldn't touch the stuff. Then one day I saw a course being offered called "FEAR OF PHYLLO" and I quickly signed up.
During the class we learned how to make sweet potato purses, spinach/feta bourekas, streudel and more. I think it was one of the first cooking classes I ever went to and I loved the fact that it was hands on.
I STILL have the outline from this course (I am not a hoarder – I swear). But for some reason I make the same thing with phyllo – over and over again. I am addicted to making phyllo cups. I make them – freeze them – serve them.
Here's the most important thing you need to know: when you are ready to start this recipe, please do not answer the phone, do not take out a load of laundry or start to empty the dishwasher …you must focus on the phyllo!! Otherwise it will dry up, crack, and you will be swearing at me!!
PHYLLO CUPS:
one package of phyllo dough (thawed)
1/2 cup melted butter
muffin pan, scissors, pastry bush
INSTRUCTIONS
1. brush one sheet of phyllo dough with melted butter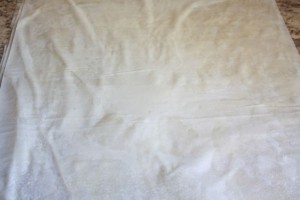 2. cover it with another sheet of phyllo dough and brush that sheet with melted butter as well
3. take yet another sheet of phyllo dough and brush that sheet with melted butter. (I used 4 sheets for a "thicker" phyllo cup)
4. take SCISSORS and cut the sheets into healthy sized squares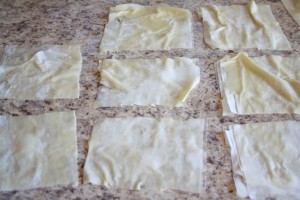 5. place the square into a muffin pan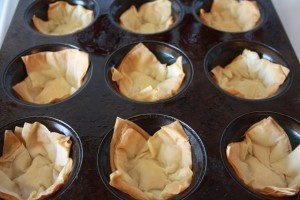 6. bake in preheated 375 oven for 8 minutes. (till golden brown).
That's it. How simple, wouldn't you agree?
Then I take the phyllo cups and freeze in a tupperware container  till I need them.
What do I do with these phyllo cups? Here's some ideas:
-goat cheese with a roasted tomato
-roasted garlic
-ricotta with mint/honey
Curious to know if you use phyllo dough often and what you use phyllo dough for.
Note: I put the leftover phyllo dough into a zip loc bag and put it in the freezer.