It's been a year since I moved into my apartment so I thought it would be an ideal time to celebrate that occasion. Here's a list of key ingredients to hosting a great party.
1) The Invite List: I included some twitter friends and some "real friends". A perfect mix. Just look how everyone is chatting away in this photo. There were 12 women in total and it was just the right amount given the size of my apartment!!
2) CREWMEN & Co: I had a (gorgeous) bartender for the evening, courtesy of Crewmen & Co and let's just say that my guests "loved" the eye candy and the fabulous cocktails that he created. I would hire this company again in a heart beat. Our bartender was engaging, professional and knew his way around the bar.  He was certainly a highlight of the evening!!
3) The Drinks: I had a great line up of Skyy Vodka, Great Lakes Beer (the Pumpkin Ale was just released, by the way) bottlegreen Sparkling Presses , 3 types of juices, wine, club soda, and tonic water, limes and lemons. Everyone was happy. I was thrilled to find out that Skyy Vodka has the fewest impurities among leading vodkas AND ZERO CARBS. This vodka was perfect for my #nocarb diet!!
4) The Food: I served some amazing nosh that I had been "saving" (no I am not a hoarder) from my trips to Ottawa, Buffalo, Montreal and even Detroit. The black garlic was a hit…that's for sure. Oh yeah – the Chocolate Chex got a lot of love too.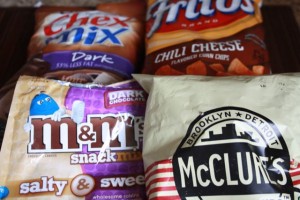 5) Good Music: I finally subscribed to Rdio but there was so much chatter that I'm not sure anyone heard the music.
6) Creating an atmosphere: This is my favorite part. I finally had an excuse to visit my favorite flower shops on Avenue Road and Davenport. Not to mention, I brought out  some pewter serving dishes that hadn't been used in a while. Here's what the table looked like: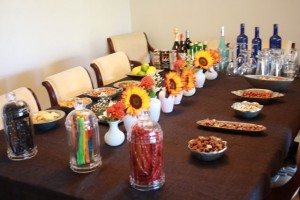 Seriously….. throwing a party isn't hard work and I can't wait to throw another one. Nothing like surrounding yourself with new and old friends on a Saturday nite.
Try it!!