It's not a secret that I like adore cheese. I'm not sure I have ever come across a cheese I did not like. I like grilled cheese sandwiches, cheese platters, and fondue too. Needless to say I was over the moon when I met Chef Corbin at the Wine and Cheese show (back in March) who told me that The Melting Pot was opening in late April in Richmond Hill. It did not take me long to whip out my iPhone to enter  the necessary information!!
Finally the end of April arrived, and I went to the opening. I could not have been happier (except I failed to bring a guest – what was I thinking?). I sat at the bar though and coincidentally sat beside Damon Allen.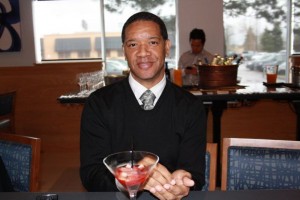 The atmosphere is contemporary and features plenty of private booths. I have no doubt that this place will be packed on Valentines Day!! It's also the perfect place for a group of friends to go out or for a couple to celebrate an occasion.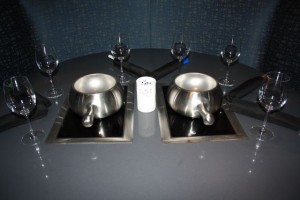 I started off my meal with a drink that looked like this: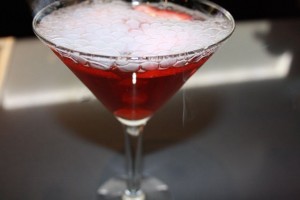 Then I ordered something I adore but rarely find on a menu.
Then came the highlight of the evening…the FONDUE (or as @SharonDV tweeted "FON-DO".)
I selected the "Fiesta Cheese Fondue" which is described as "aged cheddar cheese pairs with lager beer, jalapeno peppers and salsa, made as spicy as you like".  I was not disappointed with my choice. Other varieties of fondue included: Spinach Artichoke Cheese Fondue, Cheddar Cheese Fondue, Wisconsin Trio Cheese Fondue and Traditional Swiss Cheese Fondue. I'm pretty sure that THEY would all be perfect!!
The Chocolate Fondue Selection on the menu is awesome (um…need a birthday party idea for your 10 year old?) Items such as Bananas Foster, Flaming Turtle, Cookies'n Cream Marshmallow Dream, Chocolate S'mores, Ying& Yang, …WILL MAKE ANYONE HAPPY. I mean seriously…you can't go wrong.
By the way, The Melting Pot is a franchise in the United States and this is their first location in Canada. Welcome to Canada!!
125-135 York Blvd, Richmond Hill, ON
(905) 764-7770