For some reason I've never made a pavlova before.  But my friend assured me, that it's super easy to make so I tried it. I searched online (for a change) to find a recipe  (thanks AllRecipes.com) and before you know it my Kitchen Aid was on full blast whipping up egg whites. What I didn't know, is that it takes A LOT OF  TIME TO BAKE. This is not at all like making cookies!! However it's worth it.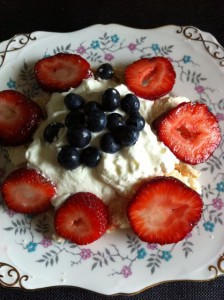 Here's the recipe: (taken from AllRecipes.com)
Ingredients
3 egg whites
1 pinch salt
1 cup white sugar
1 tablespoon cornstarch
1 teaspoon lemon juice
1 1/4 cups heavy whipping cream
1/2 cup confectioners' sugar
1 pint fresh strawberries
Directions
Preheat oven to 300 degrees F (150 degrees C). Line a sheet pan with parchment paper. Draw a 9 inch circle on the parchment. An easy way to do this is to draw around the outside of a 9 inch pan with a pencil. (I skipped this step)
In a large bowl, beat egg whites on high speed until soft peaks form. (be patient, be patient) Add 3/4 cup of the sugar gradually, while continuing to whip. Make sure sugar is completely dissolved. Mix together the remaining 1/4 cup sugar with the cornstarch; lightly fold into meringue with lemon juice.
Spread a layer of meringue to fit circle on parchment, approximately 1/4 inch thick. With remainder of mixture, pipe or spoon swirls around the edges to form a shallow bowl shape.
Bake at 300 degrees F (150 degrees C) for 1 hour. Turn off oven, but leave meringue in oven for an additional 30 minutes. When cool, the meringue should be hard on the outside, and slightly moist on the inside.
In a large bowl, combine the cream and half a cup of confectioners sugar, and whip until thickened. Decorate with fruit of your choice; strawberries are excellent.
I'm not kidding. A pavlova is a crowd pleaser. Can't believe I've never made it before!!
Happy Baking.