Hot? Want to know how to "cool down"? Then head to the Sheraton Centre. For $30 you can access the pool and the fitness centre!!
Here's what my day looked like on Monday:
10:00 a.m to noon: I worked on my laptop in one of these comfortable chairs in the lobby.  (see photo) Not a bad setting to work eh? Sure beats my local Starbucks!! The Sheraton Centre loves building a"community" feeling and encourages their guests to play chess, sit at a community table, or enjoy the LINK work stations.
12:30 to 1:00 p.m I was getting hungry and went to check out the recently opened BnB restaurant that is located in the lobby as well. It's really new…ie a month old. Seeing as I'm on a diet I couldn't enjoy the burgers and the fries that they are known for. (sniff). However I was pretty satisfied with my Wedge Salad. I'm a blue cheese addict and can't seem to get enough of this salad.
I also enjoyed some deep fried pickles that had the perfect combo of batter and the perfect pickles. Shame I couldn't have a beer with it. But this diet is really working for me, so I can't complain.
1:00 p.m to 7:00 p.m I sat at the pool with my Kobo. I was in heaven. Talk about feeling like I left the city but I didn't!! Here I was right downtown on the 3rd level of the Sheraton Centre surrounded by beautiful landscaping and staring at a gorgeous outdoor pool.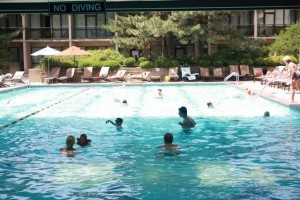 Eventually (notice how I said "eventually") I got off my lounge chair to check out the Sheraton Centres' recently renovated fitness centre. Seeing as I'm "momwhoruns" , I thought it was only appropriate that I put on my running shoes and go for a quick run. OK..very quick. I was super impressed with the size of this new Fitness Centre..it's massive. I counted 8 stairmasters and 8 treadmills! Plus room for weights, stretching etc.  This is not the tiny little (sad) looking fitness centre that one usually sees in a hotel.
7:30 p.m Bye Bye Sheraton…it was exactly what I needed to escape from the heat and I will be back. Promise.
Please note that the Sheraton Centre is offering amazing activities for kids on the weekends. Please click here for more information.
Sheraton Centre Toronto,  123 Queen Street West, 416 361 1000