My mom went to Israel recently for an epic two week trip to visit some relatives that live in Ra'anana.  Over the last few years, I have asked her to bring me FOOD ITEMS from her travels and not handbags, belts, scarves etc. I'm really a foodie and she understands!!
This is what she shlepped in her luggage. (Thanks Mom).
1. Curry Flavored Sesame Seeds and Garlic Flavored Sesame Seeds.
Too funny – I had the wasabi flavored sesame seeds in my freezer from my last trip to Israel!!. Im thrilled to see that this company has expanded their line. Last nite, I made the most delicious piece of terriyaki salmon and added the garlic flavored sesame seeds for added texture and flavor.
2. A Roll of Paper Towels (from Nikol)
We actually fought over this item as she said "I only brought back ONE and I want it". I begged her to unroll it and give me a quarter of the roll – which she agreed to. Now I should explain that this is not just ANY paper towel. It looks like a paper towel but it's not. Its a cross between a paper towel AND a jcloth. Once its wet – it acts like a jcloth. How brilliant.
I have friends who are visiting Israel as I type this blog entry, and I'm hoping they squeeze a few rolls into their luggage. At least it doesnt add a lot of weight, right?
3. World Of Nuts – Cholent Mix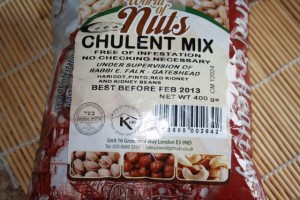 I make cholent every Friday and one day hope to blog about my special vegetarian recipe!! I usually buy a few bags of mixed beans and add them to the crock pock. I guess this offers me the convenience of having all the beans in ONE bag. Will find out on Friday.
4. Asian Home Gourmet – Spice Paste for Thai Tom  Yum Soup
Again, I bought these packets on my last trip to Israel only to find out that you can buy them at No Frills or Kosher City. (oops)  Not sure yet if this particular soup is available but I will soon find out.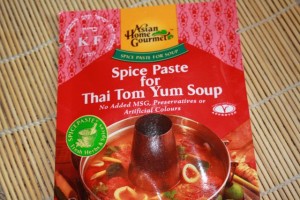 5. Pomegranate Sauce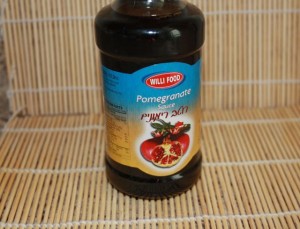 Im going to have a lot of fun with this sauce and intend on using it in a salmon dish.
Receiving "food gifts" makes me really happy. However I know I'm not going to be happy when I run out!! Good to know that I have friends who regularly go to Israel!!