Social Media and Job Hunting. It works!! Here's my Story:
I went away on vacation, only to return last Wednesday to find out that I was unemployed. I immediately updated my profile on Facebook, Linkedin, and Twitter.  I stated that I was "Seeking Employment as a Sales Rep or a Community Manager". Immediately I had two replies on Facebook to contact two separate companies and two retweets on twitter.I was impressed.
By 1 p.m…I had a meeting with 3 foodie friends (@TheBumpercrop, @afoodgypsy @lisataerk). They brainstormed with me and delivered a "go-Vicky-go" type of speech.
The pep talk worked!!
On Thursday, I met with @nearafar who also answered some more job hunting questions and gave me another pep talk.
On Friday, I received emails from @HorriblePeanut @FiestaCupcakes @CDNFoodieGiirl, and @Labamboche with leads. I was truly feeling supported by my twitter friends. Oh yeah – there was another friend (who sadly is not on twitter) who sent me numerous emails with ads too.
On Sunday I met with @sackman66 at 7:45 a.m for TWO hours of networking. WOW..I was on a roll. My friends were really there for me and I was ever so grateful.
On Monday morning, I had a phone call with someone from twitter who was looking for some assistance with her start up .We even met for coffee in the afternoon. Sadly it wasn't a great fit but once again "twitter' made the connection (thru a retweet cause I wasnt following her).
On Monday nite, I finally sent out my resume to one of the companies that contacted me thru Facebook earlier last week.
On Tuesday morning, I heard from her and at 2 p.m I was in the office…. armed with my MacBook, iPad, and iPhone….ready to work!!
Now how awesome is this story!! Whats even more awesome is I'm working with a company that I really believe in and when I walked into the office I knew FOUR people (thru twitter of course).
I have to finish this blog entry with this photo. The office has this machine in the kitchen: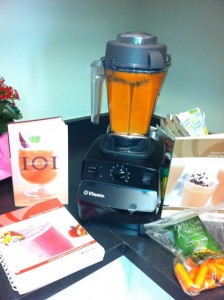 It's a VITA MIX and my boss was all too happy to demonstrate how it works!! This means, I was treated to this delicious bowl of hot soup that was made in less than 10 minutes.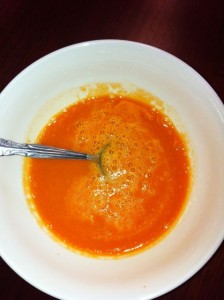 I am now working for Shes Connected and I'm beyond thrilled to be part of this team.
Morale of the story: Use Social Media if you are job hunting and don't be afraid to change your profile!!