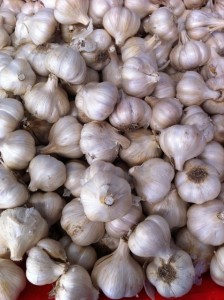 I honestly did not know a lot about garlic until a visit to the farm of  The Cutting Veg last year. Plus I subscribe to their newsletter so I can further educate myself about the varieties of different types of garlic you can order!! I have done NOTHING with this information, but I continue to read about garlic (go figure).
I also knew that Perth, Ontario has had a garlic festival for many years but never went. However, a few weeks ago, I stumbled across a flyer posted on a tree while visiting Riverdale Farm (cant believe posters still work – but I'm living proof that it worked). I immediately knew that I was going to attend Toronto's 1st Annual Garlic Festival which was held at the beautiful Evergreen Brickworks.
I wasnt the only one interested in the world of garlic as there were lots of other interested "foodies" who got up bright and early to attend this great festival.
I strolled from vendor to vendor to try and educate myself a little more about garlic. There were over 20 garlic farmers in my brain was busy trying to absorb the different varieties of garlic:  Russian, Mexican Purple, German Red, Legacy, Bogatyr, Spanish Roja, Siberian, Brown Rose, Killarney Red, Music, Polish Hardneck, Floha, Korean Red, Thai, Tibeta….SHOULD I GO ON?
It's an endless but facinating world.
I enjoyed some delicious samples of garlic scape pesto and bought some garlic as well. Naturally I haven't done anything with it yet, but I enjoy looking at it as it sits above my stove in a empty flower pot.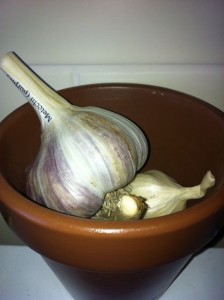 What should I make with it? should I roast it and then spread it on a baguette? should I use it in a dressing? I'm open to suggestions …I know there are other garlic readers reading this post!! What is your favorite thing to make with garlic? do share….