Fall is around the corner! Sad but true. Therefore I wanted to go to Buffalo to see the Fall Fashions and of course, to go grocery shopping. I sent out an email to a few a friends, asking them if they wanted to join me. I promised them that we would leave on a Sunday at 8 a.m and return by 5 p.m. I felt confident saying this as I now use this fabulous BORDER CROSSING HOTLINE that saves me 45 minutes of waiting at the wrong bridge. Here's the number…1 800 715 6722. Use it!!
I'm going to start by sharing what I bought at Wegmans and then write a second blog post about what I bought at Target. K?
Here's what I bought at Wegmans:
1. Olivio Coconut Spread:  This product is USDA organic, dairy free, gluten free, soy free and kosher. I have visions of using it with salmon or in a stir fry.
2. Blue Diamond Breeze – Almond Milk Coconut Blend: Again, Soy Free, Lactose Free, Unsweetened and has 50% more calcium than milk. I bought 3 as I'm sure this is going to go fast.
3. Chobani Champions: Vanilla Chocolate Chunk Greek Yogurt. It's hard to tell from the photo but it's a tray of 3.5 oz (100g) containers. I knew that this product would make my daughter happy and it makes me happy to know that it's low fat, made with only natural ingredients and  kosher too.
4. Kozy Shack Bread Pudding: I usually make my own bread pudding but this product is for my mom who lives in Ottawa and adores bread pudding. She's going to love the convenience!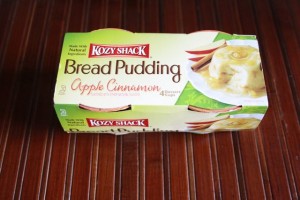 I bought a whole bunch of other items as well but these are the products that really stood out for me.  In fact my bill was close to $80!! I also decided to become a Wegmans member again as I go shopping there so often that it was time for me to save a few bucks here and there!! Yay for savings…Yay for new products.