Since I began to blog, I have had the opportunity to meet some wonderful women  who are "foodie" entrepreneurs. My list looks like this: @TheBumpercrop, @afoodgypsy @DivaQBBQ @PascalesAllNat @ViewtheVibe @CakeStarGirlz @Sable_Rosenfeld @LeDolci @MediumRare @TasteofCheese and more!!  I truly admire these women who have a vision and run with it.
I can now expand this list to include the following women "foodie" entrepreneurs:
These two women have introduced a new food truck to the Toronto landscape that offers healthy, nutritional options. I was invited to their soft launch recently and fell in love with their kale and arugula salad. It had a spicy cayenne dressing that made this salad truly flavorful and unique. Look out for this special food truck.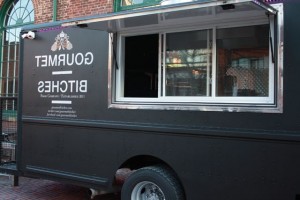 2. Popover Girl
I met Popover Girl aka Lora on International Pi Day!! (how appropriate). I think I was introduced to her on twitter and was eager to meet her IRL (in real life). She specializes in sweet and savory gourmet popovers and sells them at the Toronto Underground Market. I hope you get a chance to try her delicious popovers some time soon!!
The famous Cupcake Girls from WNetwork were in Toronto a few weeks ago to scout for a retail location. I got a chance to meet them briefly (too many events, too little time) and to try their tasty cupcakes.
I am continually amazed by the food scene in Toronto and have enjoyed watching it grow. Not to mention, I have met some wonderful woman "foodie" entrepreneurs!!
Cheers to all of you!!