Nothing like baking with THREE (thats right THREE ingredients). I took one glance at the recipe and said to myself "I am SO trying this recipe" and I did. Naturally I had the sugar and the Bisquick, but for some reason I only had ONE beer in my house and it was a flavored beer. Oh well!!
The recipe by the way came from www.cooks.com
Here's what you need: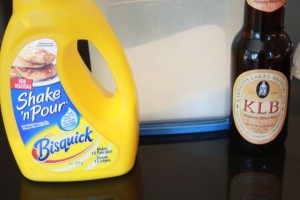 1 bottle of beer (12 oz or 1 1/2 cups)
4 1/2 cups of Bisquick
3/4 cup sugar
Blend all ingredients in a bowl (wow – no mixer necessary – I love it).
Preheat oven to 375 degrees. Fill greased muffin pans with enough mixture to fill 2/3 of each muffin container.
Bake  20 to  30 minutes or till the top is slightly brown.
END RESULT:
Were they good? Here's the answer…I ate one, then I ate another one.  Yup – it was good!!
Note: Curious to make them again using a regular beer. Will keep you posted.
Disclosure: I am part of the Life Made Delicious Connector Program and I receive special perks as part of the affiliation with this group. The opinion on this blog are my own.