On Monday, I read a tweet from @ErinLovesFood that said she was looking forward to going to the #BeerBoutique Party.
I tweeted back…"Party? Beer? How do I score an invite?".
Six hours later I was at the Beer Boutique launch thanks to Dave Paterson who was the uber professional and returned my phone call,  on an extremly busy day for him. (He's the brand manager for the Beer Store).
The Beer Boutique is located at 120 Lynn Williams, in  Liberty Village. As soon as I entered the space,  I loved it. Why? Here's a few reasons.
a) the wall of "beer labels" has been replaced with REAL BEER  CASES.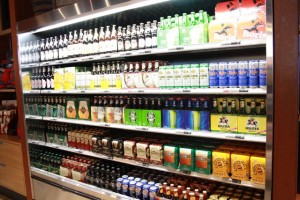 b) the space is gorgeous ..take a look at this cool light fixture.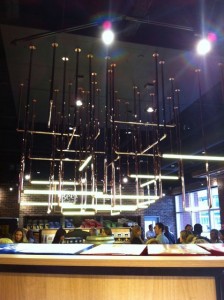 c) it's small…so it's not overwhelming.
While sipping beer at the launch, I was introduced to Sebastian Pigott, who is an actor (Being Erica), singer and musician. Not to mention a QT and a nice guy.
OK back to the beer. Kinda lost focus there for a second!!
When the Beer Store replaced the bottles on the wall, with PAPER LABELS…they lost me as a customer.  For the last few years, I have been buying beer at my local LCBO.
Now that there is a Beer Boutique, I will make sure that I will drop by Liberty Village more often. I really think that they are on to something, and you will be seeing more Beer Boutiques in the future.
If you havent checked out Liberty Village before…take a stroll one Sunday. There is a great farmers market, Balzacs coffee, The Village Cheese Monger and more.
Cheers!!!