I'm in the mood for sharing some more of my favorite recipes. Now that rhubarb is appearing in grocery stores,  I thought I would share this recipe for "Best Ever Rhubarb Crisp" that I have been using since 2009.  It's Star Tested by Susan Sampson! The article actually says "adapted from the 1983 Toronto Star Cookbook by Jim White.
Ingredients
1 1/2 lbs (7oo grams) rhubarb diced into 1/2 inch pieces (about 6 cups) ****
3/4 cup sugar
1/4 cup flour
1/2 tsp cinnamon
Topping:
1 cup all purpose flour
3/4 cup packed brown sugar
1/2 cup rolled oats
1/2 cup melted butter
Preparation: In a large bowl, toss rhubarb, sugar, flour and cinnamon. Transfer to a lightly greased 8 inch square baking pan
For the toppping: In a a bowl, toss together flour, sugar, and oats. Drizzle in butter. Mix well with a fork. Sprinkle over rhubarb mixture.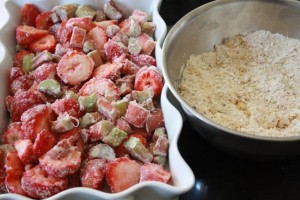 Bake in a preheated 375 degree oven for 30 minutes.
END RESULT:
***for some reason (probably cause I didnt have enough rhubarb), I used a combo of strawberries AND rhubarb. For this blog entry I used a 1 lb container of strawberries and one cup of rhubarb. It's still delicious. No one in my family is complaining.
Happy Baking!