After eating my way thru New York City  – it was time for me to, um, eat healthier. This means – cut down on eating out and make more salads at home!!
Here's two of my favorite corn salads.
(original recipe posted on The Pioneer Woman – sadly I cant find the exact link – sorry )
4 ears of corn, cooked
1/2 red onion, finely chopped
2 large avocados (I used only 1)
1 jalapeno, seeded and finally diced (I only used a little)
Dressing:
juice of 1 lime
plenty of cilantro
salt
1 tbsp of vinegar
1 tsp of sugar
Preparation: Boil water in a saucepan. Then add corn. Boil till tender. Rinse. Drain. Then slice off corn from the cobb.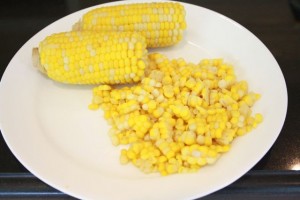 Dice avocado, red onion and jalapeno.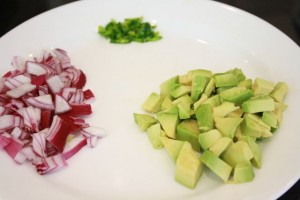 Dressing: Using a food processor, combine the cilantro, vinegar, lime juice, salt and sugar.
Assembly: Add corn to other ingredients. Pour dressing over the corn mixture. Toss. Cover and refrigerate.
Barley and Corn Salad with Basil Chive Dressing
(original recipe posted on epiciurious)
2 cups water
3/4 tsp salt
1 cup barley
2 cups corn
1/3  cup oil
1/3 cup  fresh basil
3 tablespoons chives
1 1/2 tablespoons red wine vinegar
1/4 tsp sugar
1/4 tsp black pepper
Preparation:
Bring a large saucepan to boil – then place the corn in the boiling water till tender. Rinse. Drain. Then cut off kernels from the cobb.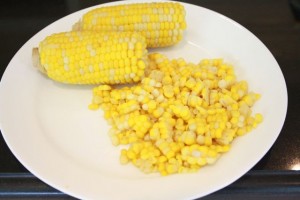 Next, bring 2 cups of water with 1/4 tsp of salt to boil in another large saucepan. Stir in barley, then reduce heat and simmer, covered, until barley is tender. About 10-15 minutes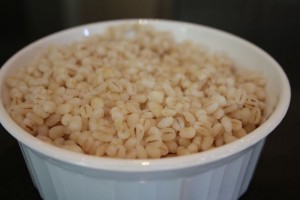 For the Dressing: Pulse in a cusinart – oil, basil, chives, vinegar, sugar and pepper,  and the remaining 1/2 tsp of salt
Assembly: Slice corn of off the ears – transfer to a bowl. Add the barley. Add the dressing. Toss to combine.
END RESULT: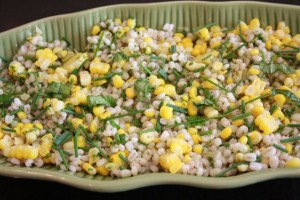 I love salads. Do you?