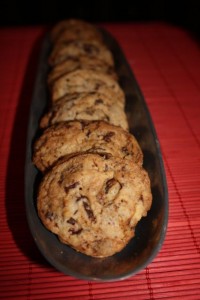 It wasn't suppose to become a cookie challenge, however after I posted "My Fav. Chocolate Chip Cookie Recipe" on twitter, I received a tweet from @livwu that said the following:
@momwhoruns Anna Olson's Chewy Chocolate Chip Cookie is my fave http://bit.ly/9GU6Wc try it!
So I clicked on the link and said "hmm…I think I might try this recipe. Why not?".
Here's the recipe in the event you don't feel like clicking on the link:
Anna Olson's Chewy Chocolate Chip Cookie:
3/4 cup butter
1/4 cup granulated sugar
1 cup brown sugar
1 egg
2 tsp vanilla extract
1 tsp baking soda
2 tsp corn starch
1/2 tsp salt
2 cups flour
8 oz bittersweet chocolate cut into chunks
Instructions:
1. Preheat oven to 350 F.
2. Cream butter and sugars together untill smooth. Add egg and vanilla extract and blend in.
3. Stir in, flour, cornstarch, baking soda and chocolate chunks
4. Drop by tablespoons on to a greased baking sheet and bake 8 to 10 minutes and golden around the edges
5. Let cool
I gave one chocolate chip cookie from Recipe #1 and one chocolate chip cookie from recipe #2 – to my daughter, her friend and her friends dad (he picked up his daughter at exactly the right time). Everyone was happy – both cookies were delicious but indeed recipe #2 has a slight edge.
Thanks to my twitter friend for sharing this recipe for me. I hope I meet her IRL (in real life) one day soon.
Happy Baking – once again.
PS… Are there any other chocolate chip cookie recipes I should try. I'm ready for the challenge.