Fact: It's winter and all I want to do is eat comfort food. I have a freezer full of soups and I wanted to diversify and make something different. Of course, twitter inspired me when I saw a tweet from @cookincanuck about a crockpot stew! Bonus Points: it's VEGETARIAN.
I made one stew and I was immediately in crockpot heaven – so I went back and made another crockpot stew from her Cookin' Canuck website.
Believe it or not, I used dried chickpeas for both recipes which I have never done before. Generally I use canned chickpeas. But I wanted to reduce the sodium and find out if there was a difference. Indeed there WAS a difference…both in flavor and texture.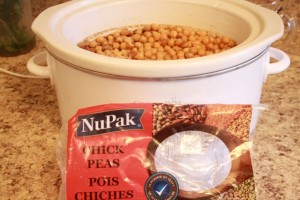 I should mention that I didnt exactly follow the recipe seeing as the original recipe called for canned chickpeas. I cooked the chickpeas first in the crockpot and then added the onion mixture. I leave it up to you if you want to use canned chickpeas or dried chickpeas.
Both stews were super easy to make and chock full of protein, fibre and other goodness. Not to mention a very very affordable dish.
Crockpot Gingered Chickpea with Spice Tomato Stew; (from the kitchen of Cookin' Cancuk).
INGREDIENTS:
1 tablespoon olive oil
2 onions finely chopped
4 cloves of garlic, finely chopped
2 tablespoon minced fresh ginger (I used organic and again I really think it makes a difference)
2 tsp ground corriander
1 tsp corriander seeds
1 tsp salt
1/2 tsp black pepper
2 tsp balsamic vinegar
2 cups canned or fresh chopped tomotoes (I used canned)
2 cans of chickpeas (rinsed and drained) or 2 cups of dried chickpeas (previously cooked)
2 cups fresh spinach leaves.
METHOD:
1. heat olive oil in a large skillet over medium heat. Add onions and cook, stirring until the onions begin to brown.
2. add garlic, ginger, ground coriander, coriander seeds, salt and pepper. Cook for 1 minute.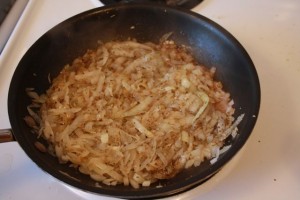 3. add balsamic vinegar and tomatoes. Bring the mixture to a boil.
4. spread the chickpeas in the bottom of the crockpot. Pour the tomato mixture over the chickpeas and mix well.
5. cover the crockpot and cook on low for 6 to 8 hours or on high for 3-4 hours
6. Just before serving, stir in spinach.
FINAL PRODUCT
RECIPE #2: Crockpot Chickpea Stew with Balsamic Onions (from the kitchen of Cookin' Canuck)
INGREDIENTS:
2 medium onions, thinly sliced
1 tablespoon brown sugar
1 tsp dried oregano
1 tablespoon balsamic vinegar
1/2 tsp salt
2 cups chopped canned tomatoes
1/3 cup chopped kalmata olives.
2 cans chickpeas (I used 2 cups dried chickpeas)
1/3 cups crumbled feta cheese
1/4 fresh parsley, chopped
METHOD:
1. heat olive oil in a large skillet over medium heat. Add the onions and cook until softened. Stir in brown sugar. Cover and cook unitll the onions are golden brown (about 10 minutes)
2. add 1/4 cup water and oregano, cover the pan again and cook unitll the onions are deep golden brown (about 15 minutes).
3. stir in balsamic vinegar, salt and an additional 1/4 cup water. Cover the pan and cook until liquid is absorbed. Remove from heat.
4. Stir in tomatoes and kalamata olives
5. Pour the chickpeas into the bottom of a crockpot. Pour the onion mixture over the chickpeas. Cook on low heat for 5-6 hours or 3-4 hours on high heat
6. Garnish before serving, with crumbled feta cheese and chopped fresh parsley.
Who else loves their crockpot?