I simply love this show. Even though I am a foodie, I can still like design, right? The Interior Design Show which is being held at the Metro Toronto Convention this weekend is a show I won't miss. This year, I am going twice. That's how much I loved it. There is just so much to see, and so much to absorb that I really do want to walk thru it a second time.
Here's a few things that caught my eye:
This bathub from Stone Forest is brand new to Canada. It's $31,000 and weights 2100 lbs. That's one heavy bath.  This style of bath has been sold in the States for years, but for some reason it JUST got introduced to Canadians this year. My friend (who was born in Paris), told me that she grew up with this style of bath as apartments were small and this bath would still allow you to have a bath without demanding a lot of space.
Kudos to John (who was an exhibitor) for hopping into the bath to model for us. We all had a good laugh.
Next item that caught my eye:
What caught my eye was the writing on the board, which said "first generation iPad". HYSTERICAL. I love clever marketing. Congratulations to www.kinoguerin.com for making me smile!! (ps. they have a wicked business card too).
More:
This magnificent stove top from GE Cafe, was being launched at the show. See the black griddle on the left? Isn't that genius. I am sure there's a few pancake loving families who will love this type of feature. I know I would!! GE Cafe continues to create appliances with all the bells and whistles. Worth dropping by their booth!!
I also fell in love with this wood table and light fixture.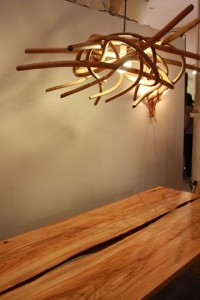 There was also a futuristic chair that caught my eye. Can't decide if I like it or I don't like it but it certainly caught my eye!!
I really hope you get a chance to visit the Interior Design Show this weekend at the Metro Toronto Convention Centre.
Hours: Saturday Jan. 28th, 10 to 7 p.m and  Sunday Jan. 29th, 10 to 6 p.m
Tickets: $18 (online) $22 (onsite)