It's a new year which is code (for me) for checking out some new recipes! So here are 3 recipes that I want to share with you that I recently tried. I hope you like them as much as I did.
a) PERSIMON MIXED SALAD:
I was recently introduced to PERSIMONS for the first time in decades. This particular variety from Spain has completely changed my mind about this gorgeous looking fruit. They have a sweet, delicate flavour similar to a peach or a mango and are only available for a short period; usually from mid-October until January/February. I think their limited availability makes them even more special, which is why you must seize the opportunity when they are in market!
Here's a fabulous salad that I whipped up one night wtih just a few ingredients that were hanging around my fridge.
For more information about this fabulous fruit: www.persimonsays.com, Twitter: @PersimonSays
INGREDIENTS:
-Salad Mix
-Toasted almonds
-Pomegranate
DIRECTIONS
1. Mix all ingredients in a bowl.
2. For the dressing: take the pomegranate juice, add oil, dijon mustard and salt and pepper. Whisk together.
FINAL PRODUCT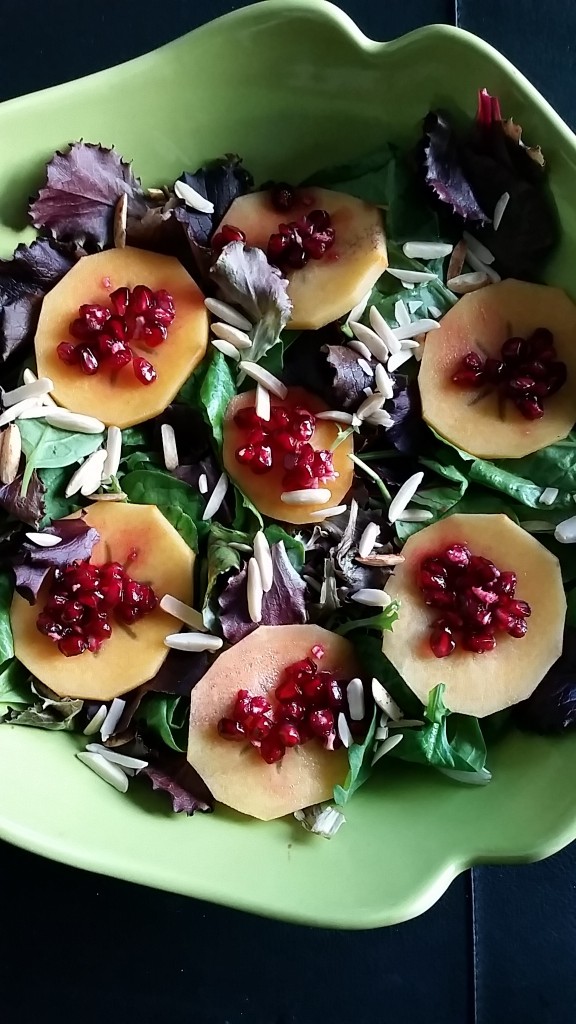 b) APPETIZER: Mediterranean Ricotta fritters
I couldn't believe how easy this recipe was to make. I will be making these again but probably going to add a different topping. ie fresh sasla or a spicy ailoli or mango chutney or a pesto. Clearly this a versatile recipe!! ps if you are looking for more amazing recipes please check out www.dairygoodness.ca
INGREDIENTS
1 egg
1 cup Canadian Ricotta
1/4 cup flour
1/2 tsp nutmeg
salt and pepper
1 cup Canadian Swiss Cheese, grated
1/2 cup tomato sauce
1 tsp black or green olive tapenada
2 tablespoons fresh herbs..ie parsley and/or chives
DIRECTIONS:
1. Preheat oven to 425 F
2. In a bowl, whisk egg with Ricotta, flour and nutmeg. Season generously with salt and pepper. Incorporate Swiss Cheese and half the herbs
3. Drop small spoonfuls of dough onto a parchment lined baking sheet. Bake in the oven on top rack for 10 to 12 minutes or until fritters are puffed up and golden brown.
4. Place fritters in wonton soup spoons (which I own of course..LOL), with hot tomato sauce, tapenade and remaining herbs.
FINAL PRODUCT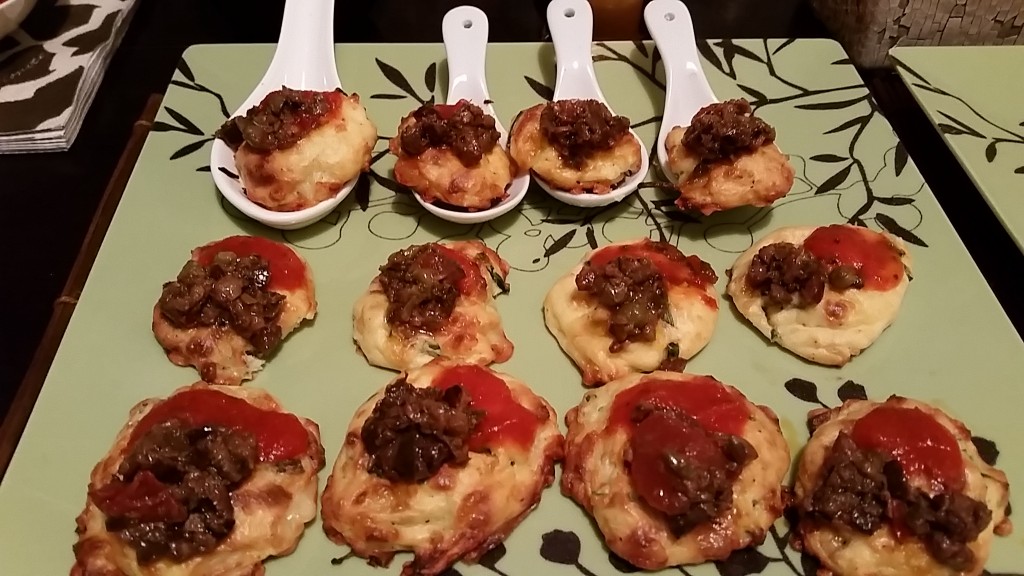 c) DESSERT: Cherry Vanilla Blintzes (recipe from Food Network courtesy Wayne Harley Brachman)
I generally buy blintzes from a box but I was in the mood to make something from scratch and came upon the recipe while searching on the internet. It's a winner. Next time I'm going to make a blueberry filling though!
INGREDIENTS:
1/2 cup milk
1/2 cup water
3 large eggs
1 cup all-purpose flour
2 tablespoons melted butter
Nonstick vegetable spray
Cherry Filling:
1/2 cup dried cherries
1/4 pound cream cheese, at room temperature
1 -teaspoon vanilla extract or 1/2 scraped vanilla bean
2 tablespoons sugar
1 large egg
1 pound (2 cups) farmer's cheese, pot cheese or cottage cheese
DIRECTIONS
Put the milk, water, eggs, and flour into a food processor or blender and process until smooth, about 10 seconds. If necessary, scrape down any solids that stick to the sides. Add the butter and process for a few more seconds to blend. Refrigerate, covered, for at least 2 hours or overnight. (I let it sit overnight)
Set a 10-inch, non-stick crepe pan over moderately high heat, then spray with non-stick vegetable spray. When the pan is hot, remove the pan from the heat and add 2 tablespoons of batter, swirling to coat the bottom of the pan. Cook for 1 1/2 minutes and lightly browned. Set aside on a plate, cooked side up, and continue with the remainder of the batter.
To make the Cherry Filling:
In a small saucepan, cover the cherries with water and bring to a boil. Remove from the heat and let rest. In a bowl, mix together the cream cheese, vanilla, sugar and egg until blended. Gently mix in the pot, farmer or cottage cheese. Drain the cherries and fold in.
Place 2 tablespoons of Cherry Filling in the lower center of the blintz. Fold up once from the bottom then fold over the sides. Roll up the rest of the way. Repeat with the rest. Heat 1 tablespoon of canola oil and 1 tablespoon of butter in a pan. In 4 small batches, fry the blintzes fold side down until golden brown. Gently flip to fry the other side. Serve with sour cream or yogurt.
FINAL PRODUCT: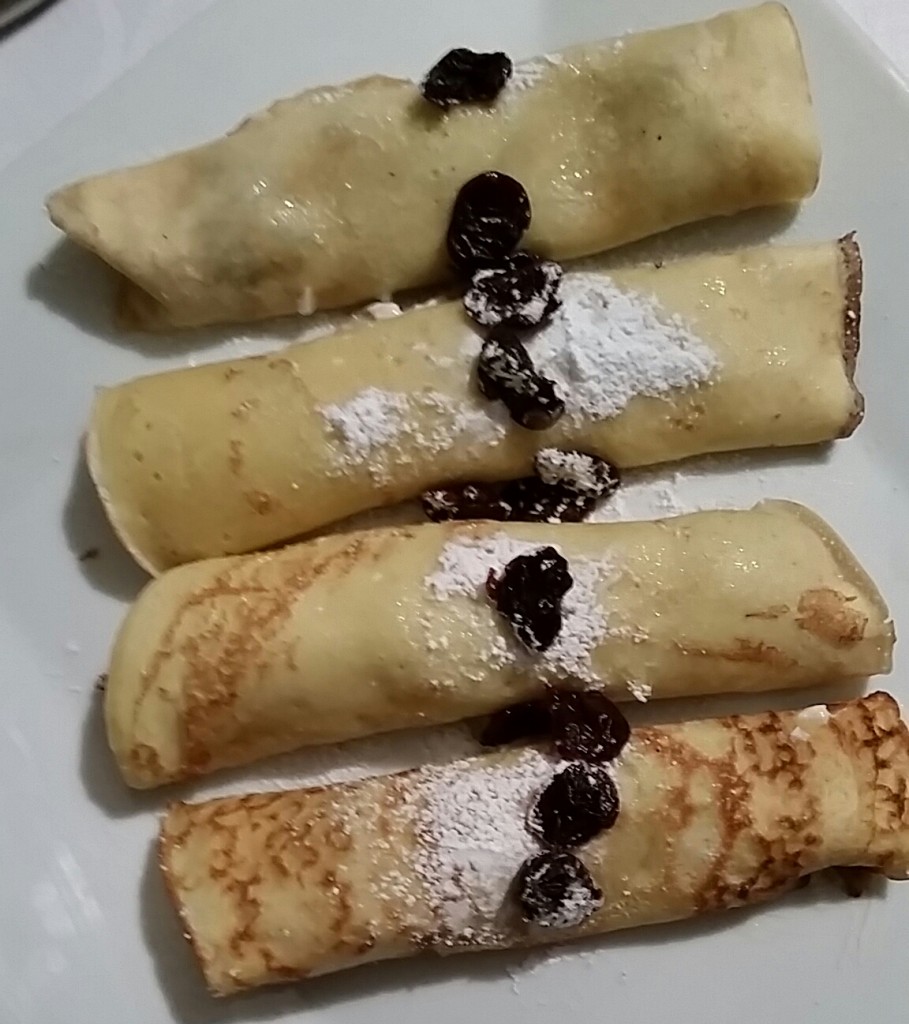 Happy Cooking!!