If I tell a friend that "I'm having company over "…. this is code for "I'm going to try some new recipes".
Here's three new recipes that I will be trying.
-Oriental Edamame Salad courtesy of AllRecipes
-Green Goddess Kale Salad courtesy of Daily Bites Blog 

-The Ultimate Filet O Fish Sammie courtesy of Food Network.
The meal will also include fresh salsa, tortilla cheese, a cheese platter and a rhubarb strawberry crisp!
Can you tell that I spent some time on -line researching some recipes. I love it though!!
Todays blog will feature two salads that I'm going to be serving, K?
First Salad: Oriental Edamame Salad 
Directions
Heat a small skillet over medium-low heat; cook almonds until lightly toasted and fragrant, 2 to 3 minutes.
Whisk sesame oil, soy sauce, vinegar, sugar, garlic, and ginger together in a bowl for the dressing; season with salt and black pepper.
Combine edamame, baby corn, water chestnuts, radishes, green onions, cilantro, and toasted almonds in a large bowl; toss with dressing until coated. Serve cold or at room temperature.
 FINISHED SALAD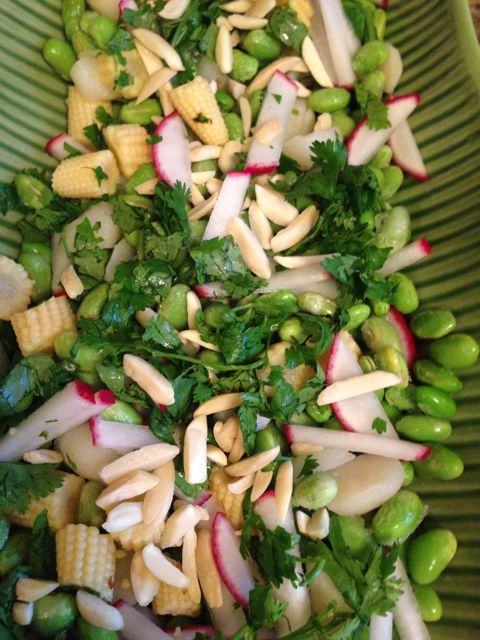 Second Salad: Green Goddess Kale Salad 
5 cups chopped kale
2 cups finely chopped broccoli florets (I steamed them slightly)
3/4 cup thinly sliced scallions
1 medium carrot (I used multi colour baby carrots)
Handful of sprouts
Handful of pumpkin seeds
1/2 medium ripe avocado, pitted
1/2 cup unsweetened almond milk or regular milk
2 tablespoons fresh lemon juice
2 tablespoons maple syrup or honey
1 tablespoon apple cider vinegar
1 tablespoon extra-virgin olive oil
1 teaspoon Dijon mustard
Sea salt and pepper, to taste
Instructions
In a large bowl, combine the kale, broccoli, scallions, and carrot. Reserve the sprouts and pumpkin seeds for garnish.
Scoop the avocado flesh into a blender or food processor. Add the milk, lemon juice, maple syrup, vinegar, and mustard. Puree until smooth. The dressing will be thick, with the consistency of mayonnaise. Pour the dressing over the salad and toss to coat everything thoroughly. Season to taste with salt and pepper.
Garnish plates of the salad with the sprouts and pumpkin seeds.
FINISHED SALAD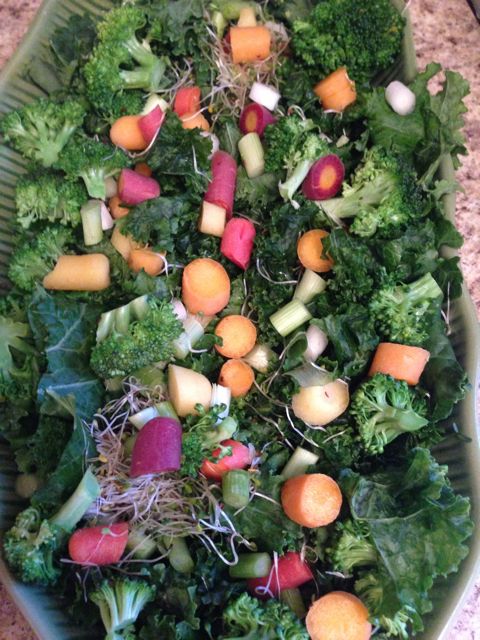 Happy Cooking!