I will admit it, I own too many kitchen appliances. I need another one like another navel. BUT…the bright colors WERE CALLING MY NAME (Cuisinart knows how to get my attention) and I just had to have one when I saw this Cuisinart Ice Cream Maker at Costco for $49.99.
I was reading so many tweets last year from @kalofagas last summer about his ice cream making adventures that I'm almost ready to blame him!!  But I won't. He truly inspired me and as a result I'm now making FRESH ICE CREAM.  A huge thank you to to @kalofagas for his inspirational tweets.
Here's how easy it is:
RECIPE FOR FRESH STRAWBERRY ICE CREAM (taken from the manual)
2 cups fresh strawberries, stemmed and sliced
3 tablespoons freshly squeezed lemon juice
1 cup sugar, divided
1 cup whole milk – well chilled
2 cups heavy cream – well chilled
1 tsp pure vanilla extract
STEP ONE:
Combine the strawberies, with 1/2 cup of sugar and the lemon juice. Let sit for about two hours. Strain the berries, reserving the juices. Mash or pureee the strawberries (I used a blender for this step).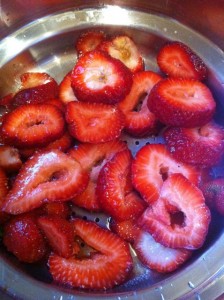 STEP TWO:
Use a mixer and on low speed, combine the milk and the remaining sugar until the sugar is dissolved, about 1 -2 minutes. Stir in heavy cream, reserved juice, mashed strawberries and vanilla.
STEP THREE:
Pour the mixture into the freezer bowl of  the Cuisinart – and press a button.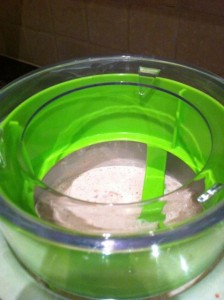 Twenty five minutes later…. I have unbelievable creamy fresh strawberry ice cream.
Hope you visit your local Costco soon – so you too can buy a Cuisinart Classic Frozen Yogurt – Ice Cream and Sorbet Maker.
I can't wait to experiment with flavors: Coffee, Ginger, Rhubarb, Lemon, Watermelon,….It's going to be a delicious summer!
PS Can someone now inspire me to use the Cuisinart Yogurt Machine that has been sitting in my basement (in a box) for the last year?