I hosted a Shabbat Tweet up on Friday night and wanted to make something that I hadn't made in along time that I knew would be a hit. I was right – there was only one piece left by the end of the night!!
The first ingredient (frozen fish loaf) might not be available in many grocery stores but I can assure you that you can find it at any grocery store from Bathurst/Lawrence to Bathurst and Rutherford.
Here's the recipe: There's 4 ingredients you really need. That's it.
Three Coloured Fish Loaf (taken from Gatherings…A project by the parents of Netivot Hatorah Day School)
1 1/2 lbs frozen fish loaf, defrosted….otherwise known as GEFILTE FISH
1 egg, beaten
1 tablespoon sugar
1 tsp salt (I omitted this)
1/2 tsp garlic powder
1/2 tsp onion powder (I omitted this too)
pepper to taste
1 box (300g) chopped spinach, defrosted and drained
3 medium sized carrots, cooked and mashed. (I used my Cuisinart for this step).
DIRECTIONS:
Preheat oven to 350 degrees
1. In a large blow, combine defrosted fish with egg, sugar, salt, garlic powder, onion powder and onion.
2. Divide mixture in half
3. Press one half into a loaf pan (I used Pam on the loaf pan to ensure it came out easily)
4. Divide the remaining mixture into half
5. Mix spinach with one half of the mixture
6. Mix mashed carrots with the other half of the mixture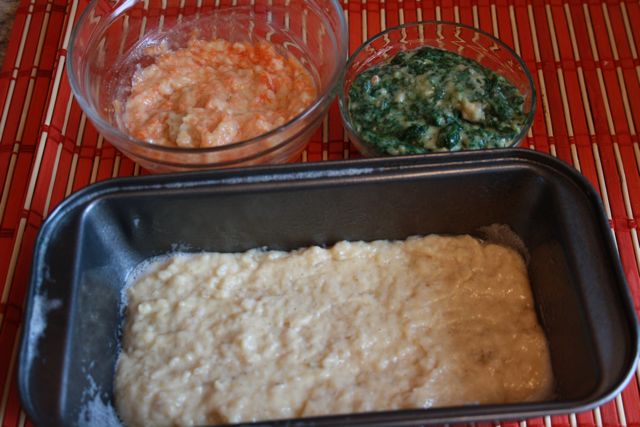 7. Spread the spinach mixture over plain fish in loaf pan
8. Then spread the carrot mixture over the spinach mixture.
Bake uncovered for an hour. Slice and serve!!
FINAL PRODUCT:
ps. Next time I would spread more carrot mixture on the loaf. I held back. I don't know why. I realized that the more you use, the thicker the layer will be.
Happy Cooking!!