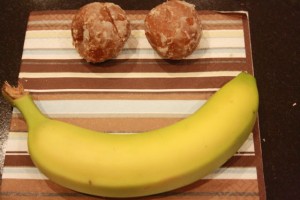 I use to go to a nutrionist who told  me that it was ok to have ONE Timbit. How could I argue? Therefore I have been enjoying ONE Timbit for probably ten years now. I dont have a Timbit every day but I'm sure I have a Timbit 3 times a week
I usually order a sour cream glazed Timbit at my local drive thru but if I'm at a larger  Tim Hortons location, I will order the cinnamon or those powdered icing sugared Timbits.  A week ago, I noticed that Tim Hortons has introduced two new flavors. Naturally I had to try them. I am positively over the moon with the banana flavor. I tweeted about it and I received a tweet that it tastes just like a deep fried banana. Personally, I think it takes like a banana muffin. I'm crossing my fingers that that this flavor will be around to for a long long time.
The other flavor that was introduced was blueberry: Sorry – but it pales in comparison to the banana.
Congratulations to Tim Hortons on introducing a great new flavor to your Timbit line up. Now only if I could win a roll up and
win! PS. Special thanks to my DD, who helped me style the photo. It was her idea to put the banana in the photo!!