Tonite, I came home from work and wanted to make a quick dinner. However I had not gone grocery shopping (even though I visit 10 grocery stores a day…don't ask). I did however, find frozen salmon, fresh broccoli and some rice in the pantry.
Before I continue, I need to give credit to two bloggers who inspire me weekly!!   1. Whats On My Plate and 2. No Recipes. (you will soon see why…keep reading)
Here's what I did with the salmon USING NO RECIPE. (which is sometimes the best way to cook).
1. Take some honey and brown sugar and put it on a plate: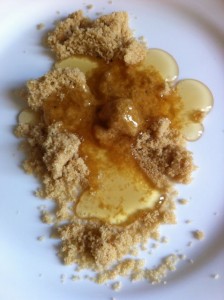 2. Mix the honey and brown sugar together then shmeer it on the salmon:
3. Place the salmon upside down onto a hot frying pan (ie the brown sugar-ed side)
4. It will bubble and become dark and this is good!!! Finish off in a pre heated 400 degree oven for another 10 minutes till its cooked in the middle.
END RESULT: this is WHATS ON MY PLATE using NO RECIPE!!! What a great dinner for a Tuesday nite, when I was tired and hungry and didn't have a lot in my fridge.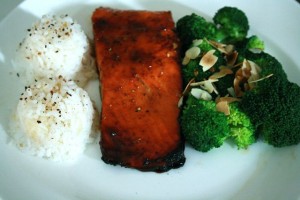 Thanks to @norecipes and @wonTONfm for inspiring me.