I discovered this recipe in 2008 on the Oprah website and have been using it ever since. This dish is truly packed with flavor because you cook the quinoa in carrot juice and not water. Plus the addition of nutmeg gives it a certain punch.
I also love this recipe because it contains all the right elements for a perfect side dish:
you just need a few ingredients
it's got a ton of flavor
there's just a few steps i.e its' easy to make
oh so healthy
Ingredients:
1 cup of quinoa, rinsed
1/4 tsp olive oil (I didn't measure but I'm sure I used more)
1/2 cup chopped onion
1/2 cup chopped celery
1/2 cup chopped zucchini
2 cups of bottled carrot juice  (I used Bolthouse)
1/2 tsp nutmeg
1/4 tsp salt
1/4 tsp pepper.
Instructions:
Heat a saucepan, and toast the quinoa. Transfer to a bowl. Set aside.
Heat a frying pan, and add olive oil. Add onion, celery, and zucchini. Cook till the vegetables are soft.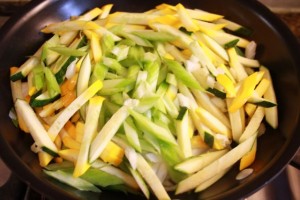 Stir in the carrot juice. Bring to a low boil. Stir in the quinoa, nutmeg, salt and pepper. Cover and simmer until liquid has been absorbed and quinoa is tender. About 25 – 30 minutes.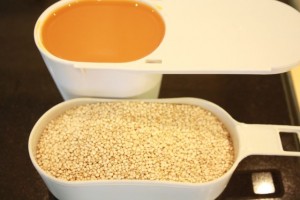 NOTE:  I put the quinoa and the carrot juice in the rice cooker!! It works brilliantly. Here's  a picture of my beloved rice cooker.