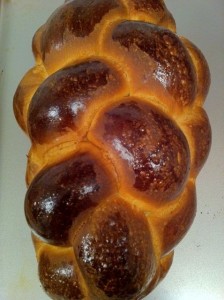 I bake Challah every week. Well kinda – I cheat. At least, I'm honest, right?
I should take a minute and explain what is Challah!! Challah is a braided bread that is served on the Sabbath(Friday Nite to Saturday Nite) in Jewish homes. I grew up with Egg Challah from Rideau Bakery in Ottawa but when I moved to Toronto I discovered that there was a variety of different challahs. ie raisin, whole wheat, with a sugary coating on top etc.
I also found out that you could make it!! I tried – I really did but it was never as good as all my friends who make it on a regular basis. (you know who you are)
Then I discovered: FROZEN challah and never looked back. There are two competing brands out there – Montreal Kosher and Lenchner's. Im not loyal – I just grab whatever I see.  I really think they are both amazing but some of my friends say that one rises better than the other. Perhaps one day I will try and test out both challah's side by side.
Step 1: I usually buy it frozen from No Frills (at Bathurst/Wilson) or Metro (Bathurst/Lawrence). However you could find it at any major grocery store from Bathurst/Lawrence to Bathurst/Rutherford.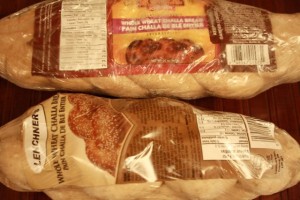 Step 2: I unwrap it, lay it on parchment paper and cover with saran wrap. Then I wait 6 hours. (not 4, not 5).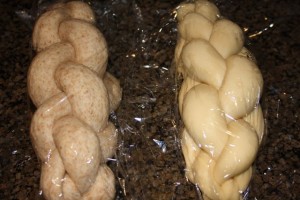 Step 3: I take the wrapping off, and put an egg wash on it (my fav. step)
Step 4: I put the challah in the over at 325 degrees F and bake for 35 minutes. (not 30, not 40).
Step 5: see above photo for the finished product
I serve it on Friday nite and its generally GONE by Sat. Nite. However if you have leftovers – challah can be used to make a wicked french toast!!
I kinda like the whole wheat challah these days but truthfully they are all fanatastic.
All I know – is that this challah rocks and I look forward to making it every week. Baking challah makes my apartment smell great, and you can't beat the convenience. Sure, it's not the same as taking the time to make it from scatch – but I can't get over the fact that IT ALWAYS COMES OUT amazing.
Hope you get a chance to try challah one day soon!!