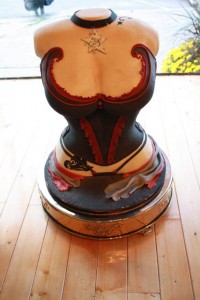 Back in late September, I was invited to the opening of  CakeStar.  I was not going to miss this event even though the next day I was moving. Thats right – the next day I was moving. But I was determined not to miss this opening…I like cake and I have priorities. Clearly eating cake was a higher priority than packing another box!!
Here is some background info about CakeStar: It's owned and operated by two sisters and it's a great story about two women who are clearly passionate about the food business.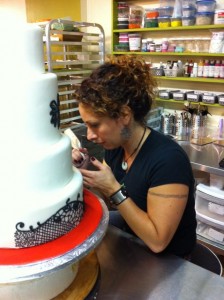 The cakes are gorgeous (see above photo) and that evening I treated myself to cannoli that was superb. I don't say that lightly – as I take my desserts very seriously and often don't indulge in just any old dessert – its got to be GREAT. It was recommended and indeed it was a fantastic recommendation.
CakeStar offers classes too. Ranging from beginners to 3D cake decorating and even a class called "rock 'n roll romance cake". I don't know if you noticed, but my blog posts over the last year have never been about cakes. I can make cookies, muffins, crisps, pudding, and tiramisu but avoid making cakes. (fear of cakes perhaps?). But you never know, one day soon I could get over this fear. Hey – I can make that a goal for 2012 – learn how to make cupcakes and cakes.
If you can't make it to their store, soon you can watch them on CBC's the Steven and Chris show as the resident cake expert!! Alternatively, you can find out more about their cakes and cake decorating classes by visiting their awesome website. I have to say, their website is great. (kudos to the webmaster too).
3431 Lake Shore Blvd West (at Kipling)
Etobicoke, ON
416-259-9053
twitter: @CakeStarGirlz