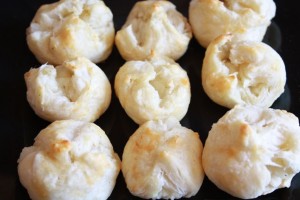 Most of the tweet ups I attend are at restaurants, however this week I am hosting a Shabbat Tweet up in my apartment.  What does this mean? This means that all the guests are on twitter and they are all "foodies" in a big way plus 99% of the guests are Jewish.
The food served at this tweet up will be traditional Friday nite food except for the fact that my kitchen is vegetarian. (small detail). This means no one will be enjoying chicken soup, chopper liver or brisket.
I decided that the meal definitely required a potato knish. They are easy to make and everyone loves them.
What is a knish? Its basically puffed pastry with potato filling. I cheat and use a mix. Once we did a taste test between fresh mashed potatoes and the mix and no one could tell the difference. Therefore, I use the mix out of pure convenience.
My mom makes them to perfection. Little tiny bundles. Mine aren't as  pretty and I hope she isn't reading this, shaking her head and muttering "why didn't she watch me in the kitchen?".
POTATO KNISHES:
Ingredients: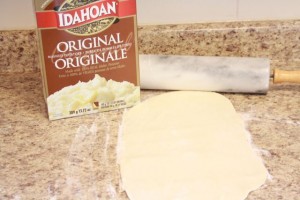 1 package of puffed pastry
Mashed potatoes…(I made 2 servings according to the instructions on the side of the box)
METHOD:
1. Make the mashed potatoes according to the directions on the box. SEASON generously with salt and pepper
2. Roll out the dough and then cut into squares. Forgive me – but I don't measure how big these squares should be. Fill with a tablespoon of mashed potatoes.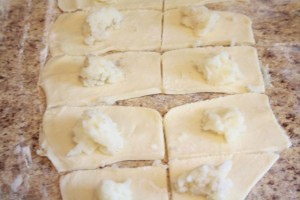 3. Shape into ????. I wish I could describe how to do this step but I can't. It would have been brilliant of me to prepare a video of this step. One day – I promise!!
4. The goal is to make them into little bundles.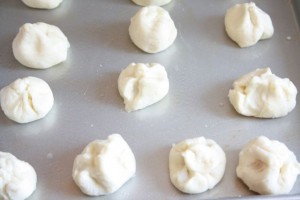 4. Egg wash each knish so they get a nice shine to them.
5. Bake at 350 degrees for 25 minutes. The final product should look like the first photo at the top left of the page.
Try eating knishes with sour cream.  I also love the fact that they freeze BEAUTIFULLY.
Can't wait to serve them tomorrow at the Shabbat Tweet up.