Honestly I don't know why it's taken me so long to make this dish. I swear I make salmon almost every Friday night and I regularly scour the internet for new recipes but for some reason, I've never made a Salmon Wellington before. Till now!!
I'm so glad I tried this recipe even though my "braiding" skills could use some improvement, however the results came out pretty decent. There's no question that I will make this recipe again.
All you really need is a few ingredients and poof – you have a pretty elegant main course.
Recipe: Salmon Wellington (original recipe from www.simplyhomecooked.com)
Ingredients:
4 (7 oz) salmon fillets
salt and pepper to taste
2 tbsp butter
2 garlic cloves, divided
1 shallot, chopped
1/4 cup white wine (I didn't use any and it still came out delicious)
3 oz cream cheese
5 oz fresh baby spinach
2 tbsp plain bread crumbs
1/4 cup shredded parmesan cheese
1 (1 lb.) package puff pastry
1 egg (for egg wash)
Instructions:
1. Season the salmon with salt and pepper to taste.
2. In a pan, heat butter, chopped shallots, and garlic over medium heat. Sauté until the shallots become translucent.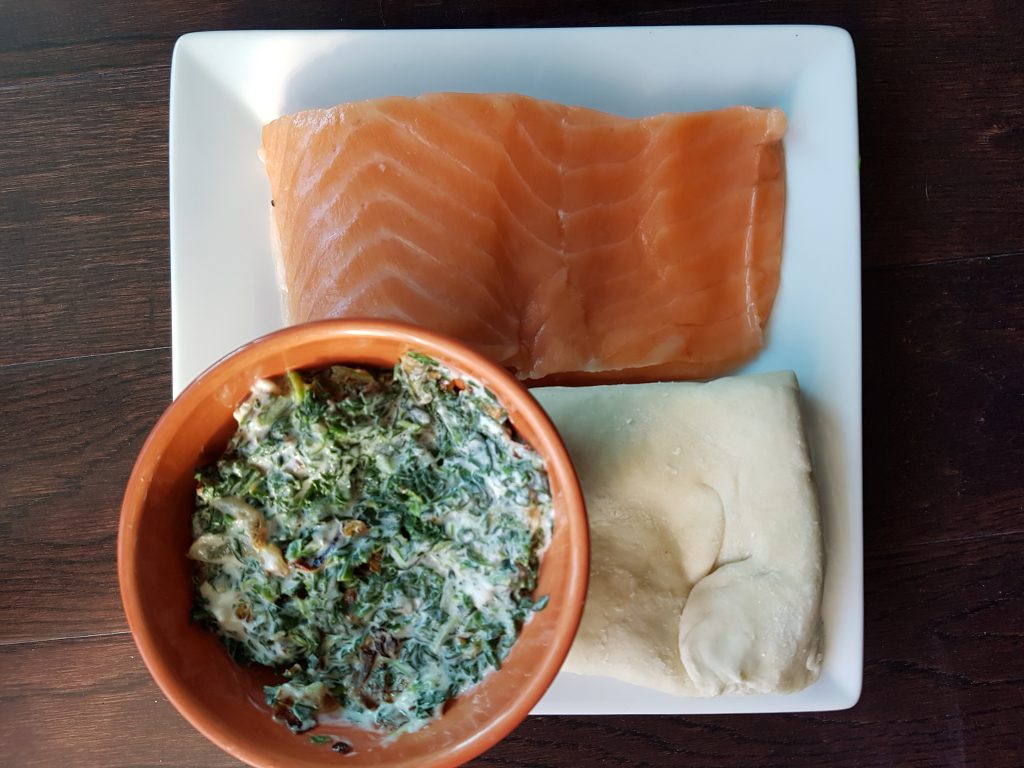 3. Bring the heat to high and add the white wine. Let the liquid cook out for about 5 minute, then add the cream cheese and sauté for 1 minute. (note: I didn't add any wine)
4. Lastly, add the spinach, bread crumbs, and Parmesan cheese. Sauté just until the the spinach softens.
5. Unfold the puff pastry onto a light floured surface and roll out the 2 sheets, then cut them in half. So you end up with 4 pieces.
6. Place each seasoned salmon fillet in the middle of each puff pastry sheet. Depending on the size of the fillet, you may need to roll out the puff pastry a little more or less. Leave about 2 inches around the edges.
7. Divide the spinach mixture into 4 equal parts and evenly spread it on top of the 4 fillets. Then brush the edges of the puff pastry with egg wash (1 egg + 1 tsp water).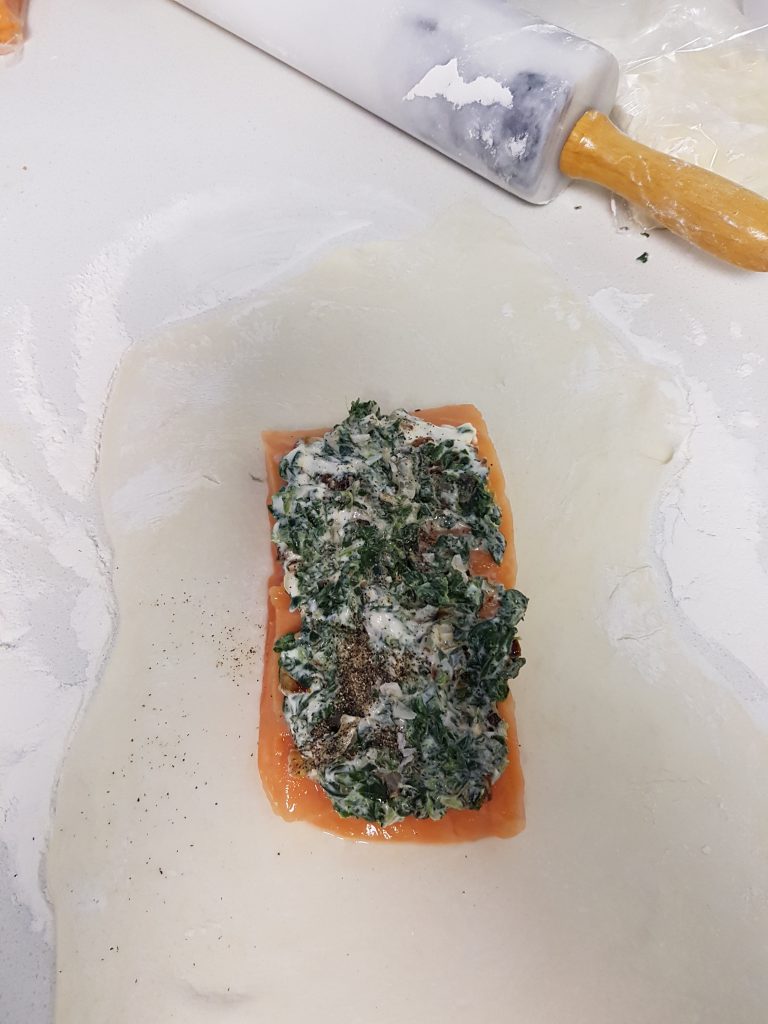 8. Begin folding the the puff pastry over starting with the longer side. When folding over the short edges, brush more of the egg wash before folding.
9. Line a baking sheet with parchment paper and place the salmon wellington seam side down.
10. Make crosshatch slits on top of the Wellington with a knife. Then brush with more egg wash. (ok I didn't do this stop either – I did a braid).
11. Bake at 350 degrees Fahrenheit for 25-30 minutes or until the pastry is golden brown.
Final Result!! – As you can see, I braided it and didn't make the crosshatch. I guess I was feeling creative. LOL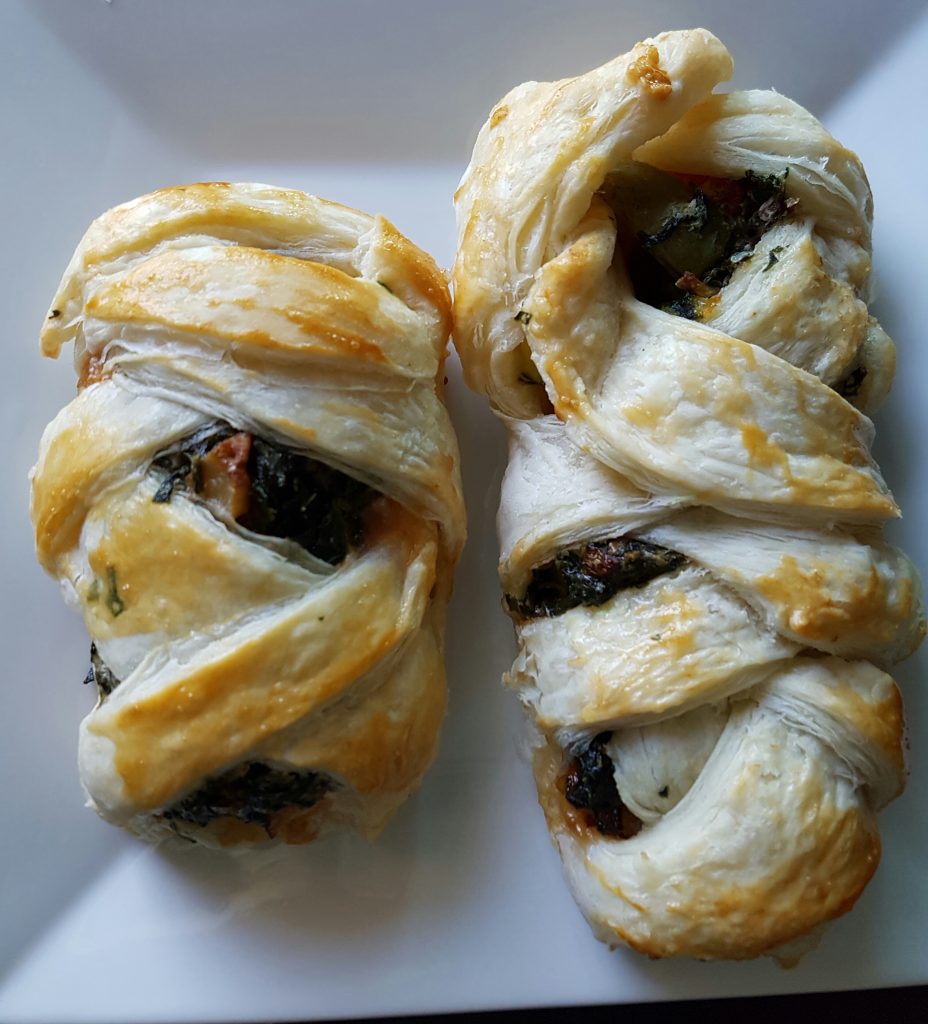 I served this along with a salad, vegetarian stew and couscous. The stew was prepared in the slow cooker while I was asleep. Oh how I love my Breville Rice Cooker which also has a function to "slow cook".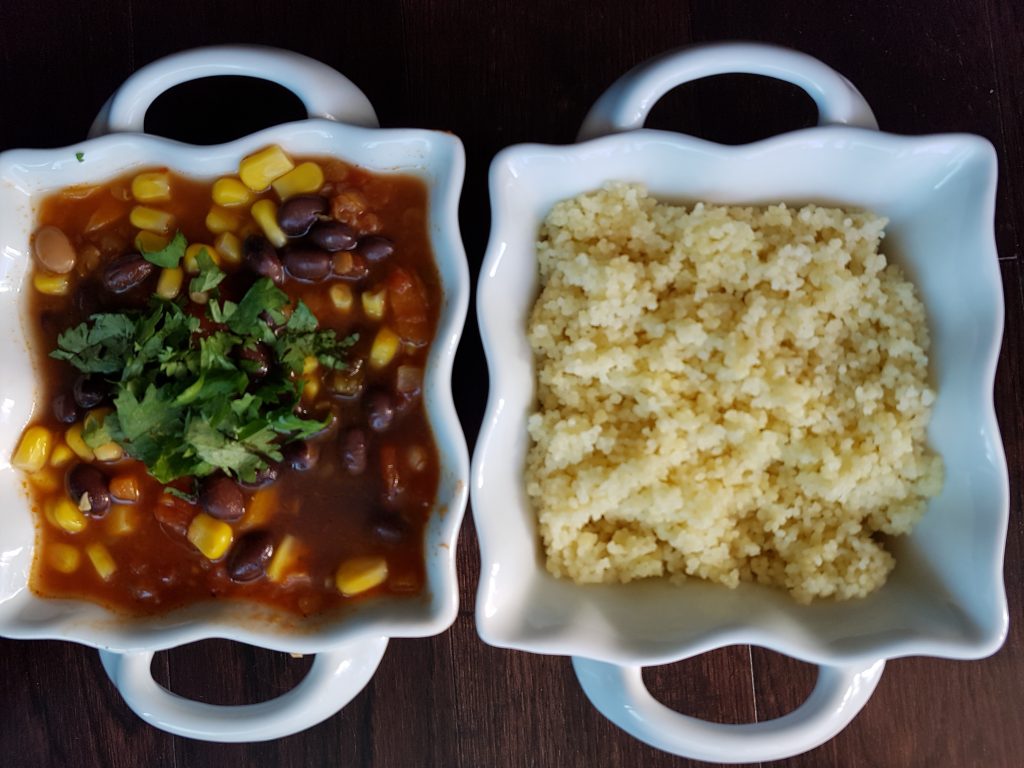 Naturally I had fun setting a "fall inspired" table.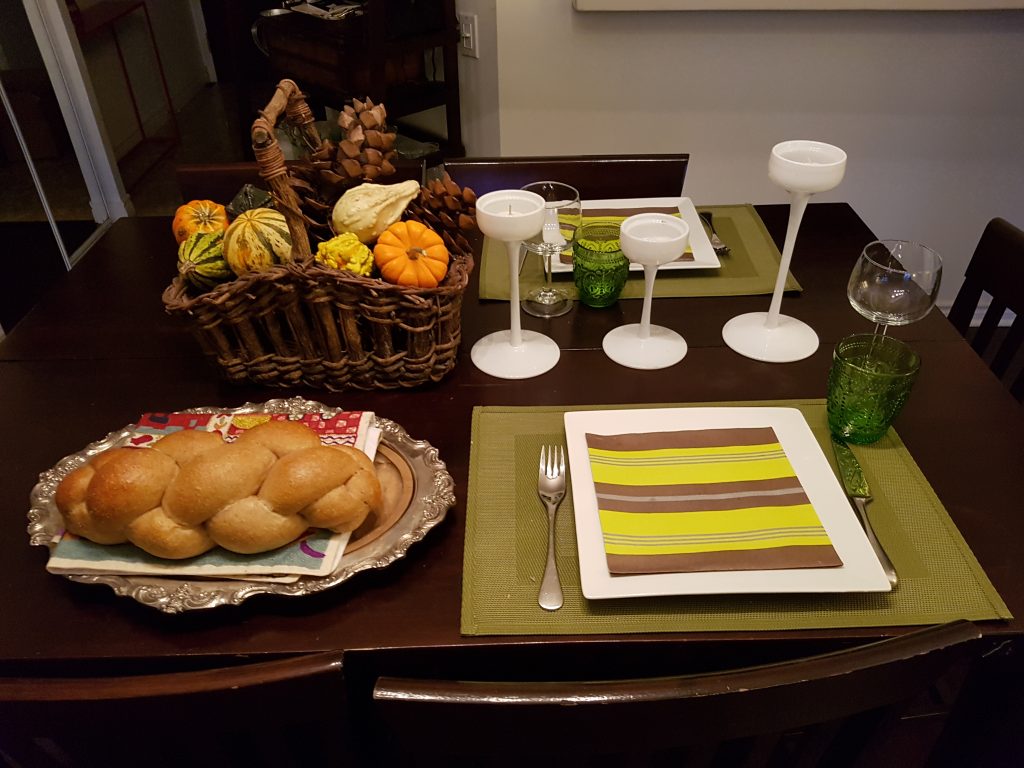 Happy Cooking!!