I had a chat not long ago, with the owner of Pantry Foods about salads, and he mentioned that he rarely makes a salad in a bowl. He said
"the the dressing always sinks to the bottom and when you display it on a platter it's visually more attractive"
After that discussion I decided to try serving salads on a platter. It was a perfect opportunity for me to use this beautiful Umbra Platter I got as a gift from my cousins.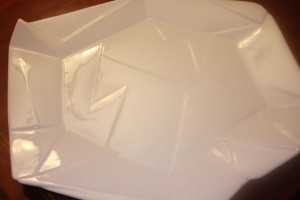 Salad idea #1: Basic Green Salad
Ingredients: Bibb Lettuce , Corn shoots that I found at Natures Emporium, mini corn, carrots, zucchini.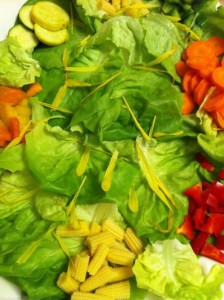 Here's what the corn shoots looked like, when I bought them at the store. How pretty is that?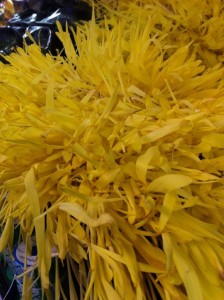 Salad idea #2 Spinach Salad
Ingredients: Spinach, red onion, toasted almonds, mushrooms, hard boiled eggs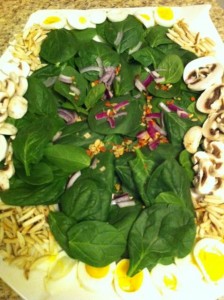 Salad idea #3 Morrocon Inspired Salad
Ingredients: Lettuce, oranges, dates, marcona almonds, pomegranate seeds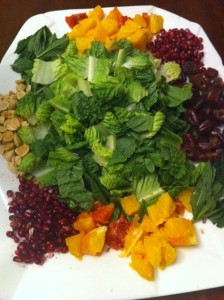 Other salad that I could make using this platter include:
Nicoise: black olives, tuna, red onion, lettuce, hard boiled eggs.
Israeli: cucumbers, tomatoes, parsley, couscous, chick peas
I have to admit, I really enjoyed preparing these salads and then eating them too!! Due to my love for making salads, it has prevented me from eating salads in restaurants. I rarely go to Freshii or Fresh..even though everyone tells me that their salads are fabulous.
I use to go to a restaurant at Bayview Village for their famous salad bar but for some reason I stopped going there too.
I guess I really like to go to restaurants to eat food I can't make at home. Anyone else agree?