As you know I love to entertain. I enjoy all aspects: the menu planning, setting the table, selecting the flowers as well as the napkins etc etc. As you might also know…I'm NOT MARTHA STEWART. Infact I have blogged several times about my FAILED projects…cake pops, and floating fish….are two projects that come to mind.
However this project even I CAN DO. Basically it's edible napkin rings made out of frozen challah dough. WHAT A GENIUS IDEA, non?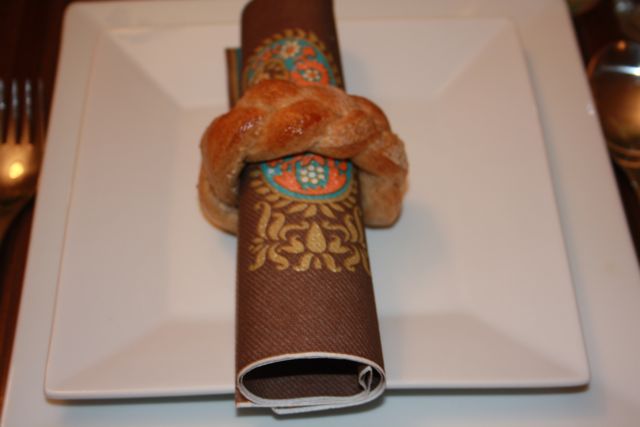 I discovered this project, years ago, while sifting thru the cookbook: Kosher By Design, by Susie Fishbein and knew that I had to try it.
CHALLAH NAPKIN RINGS
Ingredients:
1 frozen challah, defrosted (Lenchners or Montreal Kosher)
1 large egg, lightly beaten
sesame seeds or poppy seeds
DIRECTIONS:
1. preheat oven to 350 degrees. Cover one large baking sheet with parchment paper
2. Take 2 empty paper towel rolls and cover them with a double layer of tinfoil. Then cover the tinfoil with parchment paper. ***Tape wont stick to parchment paper so use a thin strip of tin foil to act as a rubber band.
3. Cut the dough into 6 sections. Divide each section into 3 equal pieces.
4. Roll each piece into a piece of rope. Place the ropes side by side on the parchment paper . Pinch the open ends together. Start to braid the dough and then pinch the ends at the bottom
5. Place the braid over the prepared wrapped tube. Wrap it around so the top and bottom ends meet.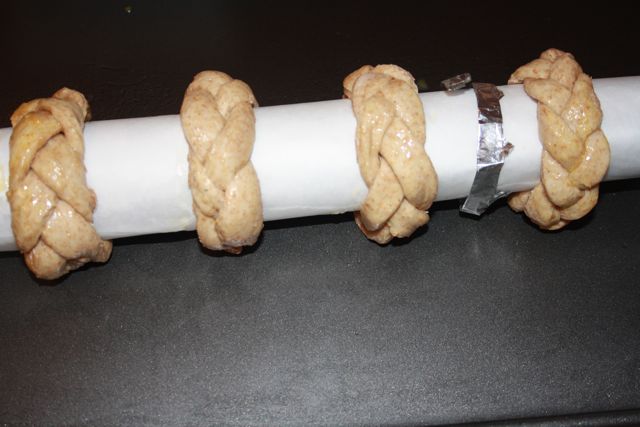 6. Pinch the ends together to make a complete circle. (really pinch as you don't want them to open up)
7. Repeat this process, placing up to 4 rings per tube.
8. Brush with beaten egg and sprinkle with sesame seeds or popyseeds or both.
9. Bake for 20-30 minutes.
PS if your guests dont eat them…I freeze them and put them out for the next time I entertain.
Happy Entertaining!!