Usually I buy frozen salmon filets at Costco, but last week I bought a beautiful fresh salmon filet with the intention of making Salmon Primavera. For some reason, I've only used this recipe on fresh salmon but now that I'm thinking of it, you could probably make with the frozen salmon pieces as well.  This recipe will certainly "wow" your family or dinner guests!!  It's so pretty and so moist. Promise.
RECIPE: SALMON PRIMAVERA (taken from Kosher by Design: Entertains by Susie Fishbein)
2 1/2 – 3 pounds WIld Pacific or Sockey Salmon Filet
Salt
Pepper
Dijon mustard or thick honey mustard (I've only used this recipe with thick honey mustard like Honeycup Mustard or Woebers Honey Mustard)
1 small zucchini, with skin, thinly sliced
1 small yellow squash, with skin, thinly sliced – (use either yellow zucchini if you can find it it OR butternut squash slices but please pre-cook the slices)
1 Roma or plum tomato, thinly sliced
1/4 cup unflavored breadcrumbs or Panko (I use Panko)
2 tablespoons chopped fresh dill
2 tablespoons olive oil
DIRECTIONS:
1. Preheat oven to 375 degrees
2. Put the salmon on a parchment lined baking sheet and season the salmon fillet with salt and pepper. Brush an even thick coat of the (honey) mustard all over the salmon.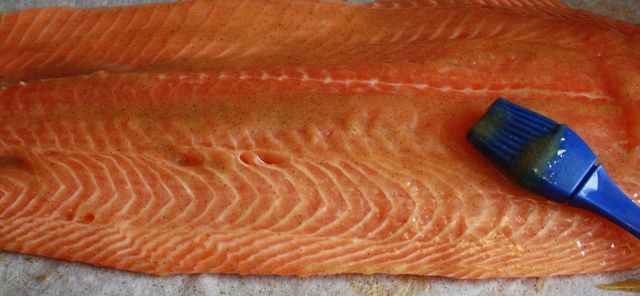 3. Place a layer of zucchini slices on the salmon. Then place a layer of the yellow zucchini or PRE COOKED butternut squash slices. Then place a player of thinly sliced tomatoes
4. In a small bowl, mix the olive oil, panko or breadcrumbs (I use Panko) and the fresh dill.
5. Spread this mixture onto the entire salmon.
6. Bake for 30-35 minutes. Don't be afraid to poke thru the fish to ensure that's its all cooked!!
7. Serve hot or room temperature.
FINAL PRODUCT:
I served this with a strawberry spinach salad, roasted garlic from Stone Soup Farms, tomato basil tarts and roasted tri color carrots with fresh tarragon leaves.
The meal was a hit!!
Happy Cooking.