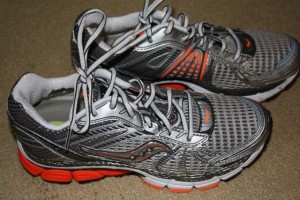 I am  really nervous about running the Toronto Marathon this Sunday. Let me rephrase that – I AM FREAKING. I have every doubt, fear, and have zero confidence at the moment. This happens to me before every race so I should be use to it. But I'm not. I have done 3 half marathons and before each race, I am a wreck. Go figure.
I seriously did not think I was going to register today, but I am going to. I decided last nite (nothing like waiting to the last minute) after reading some positive comments from my facebook friends. I seem to always resister the day of the expo, but that's because I want to see what the weather is like (ok ok..I'm a bit of a princess). Guess what? It's going to be 16 degrees and sunny on Sunday. Talk about "Perfect Conditions".
So let's review why I am so nervous:
1. I have only been training on a treadmill.. It's weird – I know. I did not go out for a run once outdoors.
2. My longest run has only been 9 miles. I am hoping praying, that the rest is all mental.
3. I am registering late, so it will cost me $105 to participate. This is a problem, as I can think of a few restaurants I could go to with this money.
4. I am SLOW…REALLY SLOW. In fact with each race, I get slower and slower  – so why am I doing this? (don't answer).
I have resolved to do the following things to help me on Sunday:
1. I am NOT going to wear a watch. I am just going to shuffle my way thru the 21 km and just enjoy the moment.
2. I am going to celebrate  this accomplishment and go to Poutini's on Sunday nite. It's about the only thing I will be able to afford!!
3. I am going to try and repeat this mantra throughout the race "one step at a time…one step at a time" and "you can do this…you can do this".
Happy to hear from any of my readers with words of encouragement. These comments really do help me.
P.S. after this race…I am going to cross train for the next few months and get ready for a Sprint Triathlon. I didn't do one last year and I really missed it. I know I will go thru the same "pre-race" jitters but for some reason I am less of a wreck. Except for the swim part. Stay tuned for a similar blog post.
Wish me luck.